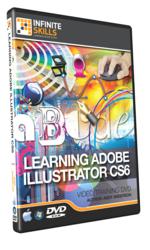 Taught By Leading Adobe Expert Andy Anderson
(PRWEB) July 27, 2012
Software training provider InfiniteSkills has announced its new Adobe Illustrator CS6 Tutorial Video Course as a breakthrough solution for new users trying to learn professional graphic design techniques for print and the Web.
Narrated by author and professional software trainer Andy Anderson, the course emphasizes real world workflows and strategies for producing complete projects. After explaining the role of vector graphics versus raster imaging, Anderson goes through the Illustrator interface, pointing out key menus and panel management tips that can save time in any type of work.
Adobe Illustrator Training Video Course - Video Tutorials for Beginners
Next, the Adobe Illustrator training looks at object selection, showing how to use the lasso tool, magic wand and fine selection techniques to manipulate project elements onscreen. After going over color management, strokes, gradient and paths, Anderson devotes entire chapters to working with vector shapes, using the pen tool and effectively working with type, from paragraph formatting options to converting individual letters into outlines.
The Illustrator CS6 tutorial then covers layer management, paths and opacity masks, and publishing options. With advice for users at all levels, the Illustrator CS6 training also includes a full chapter of 'Down and Dirty Illustrator Tricks' that goes through time-saving shortcuts and effective workarounds to achieve visual effects.
"Andy has been using Illustrator since it's earliest versions, but because of his experience as an educator, he doesn't forget what it's like to be a beginner, either," said Chris Johns, content specialist for InfiniteSkills. "This lets him show off some really fantastic functionality, while also thoroughly covering the core skills that everyone needs to know."
The Adobe Illustrator CS6 Tutorial Video is the fourth training course the company has released for Creative Suite CS6, with more to follow for each major application. Within the Illustrator tutorial video itself, there are lessons on using the program in conjunction with other Adobe programs, such as Flash CS6.
"Based on in-house studies, we find that customers are really interested in workflows bringing together multiple applications," said Colin Boyd, sales director for InfiniteSkills. "These programs are released together for a reason, and we want our Adobe training to prepare users for the results-driven world of real design."
The complete Adobe Illustrator CS6 Tutorial Video course is available from the InfiniteSkills website for $99.95 USD. It can be purchased on DVD-ROM or as a full download, with buying and shipping options available throughout the world. Both versions of the training are Mac and Windows compatible and include accessible work files that match the lessons featured onscreen.
More information about the Illustrator CS6 training can be found on the tutorial product page:
http://www.infiniteskills.com/training/learning-adobe-illustrator-cs6.html
About InfiniteSkills Inc
InfiniteSkills is an innovator in the field of technology software training. The firm's progressive approach teaches complex topics by focusing on task-oriented training.This allows users to intuitively grasp a wide range of skills they can seamlessly integrate into their daily workflow. With DVDs, digital downloads, and iPad editions of its training titles, the company delivers professional quality training to customers anywhere they want to learn.