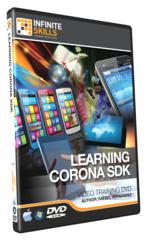 Quickly Master Mobile App Programming
(PRWEB) July 27, 2012
Technology training provider InfiniteSkills Inc has released a new Corona SDK Tutorial Video Course aimed at teaching iPhone, iPad and Android device development using the popular system's interactive software tools and simplified Lua scripting language.
Narrated by Professor Rafael Hernandez, the 7.75-hour tutorial video course can be ordered on a Mac and Windows-compatible DVD-ROM or downloaded from the InfiniteSkills website. The package includes 96 training videos that cover a wide range of topics and features accessible project files that enable viewers to follow along.
Learning Corona SDK Tutorial - Training Video Course
The Corona SDK training starts with the installation and setup of the Corona development environment and walks viewers through the creation of their first project. The training then moves through the structure of the Lua scripting language and goes through each major stage of app creation, with hands-on examples at every point.
Used by more than 100,000 mobile developers, Corono SDK has become a leading solution for producing apps and eBooks for mobile digital devices. Graphic design and advertising agencies have used the platform to leverage existing content into mobile formats and extend branding opportunities for clients around the world.
"With this series of Corona tutorials, we want anyone to be able to compete in the mobile marketplace," said Colin Boyd, sales director for InfiniteSkills. "Our goal is to offer comprehensive creative training at an affordable price so that no one is limited by budget alone."
After introducing the basic concepts of the Lua scripting language, the Corona SDK training shows how to add images, shapes and text and then gradually introduces levels of interactivity. The Corona tutorials cover animation, object physics and multimedia support such as the ability to play native video and use the device's built-in camera and location tools.
Next, the course shows how to properly capture and act upon user input such as text fields and forms, and how to use extensible interface widgets to build more intuitive user interfaces in a minimal amount of time. The final chapters of the Corona SDK tutorial cover data management such as the ability to write to backend databases, how to use Network APIs and how to debug and then build fully functioning apps.
"While many app development tutorials out there ignore creativity, it's right at the center of the Corona course," said Chris Johns, content coordinator for InfiniteSkills. "Rafael is able to cover all of the necessary technology while helping viewers actively bring their own vision to life."
As a professor of music and director of the multimedia graduate program at CSU East Bay, Rafael Hernandez has developed educational resources, games and interactive mobile apps using Corona SDK and other tools. In addition to the Complete Corona SDK Training Video course for InfiniteSkills, his tutorials have been featured on the official Corona Labs website and throughout the mobile development community.
The full Corona SDK Tutorial Video Course can be ordered for $99.95 USD from the InfiniteSkills website on DVD-ROM or as a direct download. Shipping and ordering options are available for customers worldwide.
http://www.infiniteskills.com/training/learning-corona-sdk.html
About InfiniteSkills Inc
InfiniteSkills is an innovator in the field of technology software training. The firm's progressive approach teaches complex topics by focusing on task-oriented training.This allows users to intuitively grasp a wide range of skills they can seamlessly integrate into their daily workflow. With DVDs, digital downloads, and iPad editions of its training titles, the company delivers professional quality training to customers anywhere they want to learn.