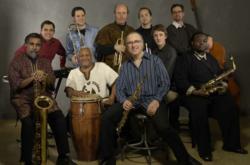 "Reverent AND irreverent...a band that's been around the world, yet still pushes for more." -AllAboutJazz.com
Somerville MA (PRWEB) July 27, 2012
The 10-piece Either/Orchestra, based in Somerville, MA, is currently preparing for two final appearances of the summer. Friday July 27 finds the band at its favorite tiny venue, the Lily Pad performance space in Cambridge MA; Wednesday August 8 they make their debut at the Jazz Standard in NYC, one of the city's top jazz clubs.
The Lily Pad show will be a single show between 9 and 11 pm. Admission is $10. The Lily Pad is all-ages and draft beer is available. The Lily Pad is located at 1353 Cambridge St., Cambridge MA.
The Jazz Standard will host two shows, at 7:30 and 9:30. Admission is $20. The club is at 111 E. 27th St.
The programs will include originals by leader Russ Gershon and other band members, along with music by the Ethio-Armenian composer Nerses Nalbandian.
The Either/Orchestra, founded in 1985 by saxophonist/composer Russ Gershon, is New England's premiere large jazz ensemble. With six horns, piano, bass, drums and congas, the group has created a unique style, blending a diverse range of jazz influences with Latin jazz and Ethiopian music. Over its nearly three decades of existence, the E/O has been the breeding ground of future jazz luminaries, including Miguel Zenon, John Medeski, Matt Wilson, Josh Roseman and many others.
Current personnel is Tom Halter and Dan Rosenthal on trumpets; Joel Yennior, trombone; Mark Zaleski, (Cambridge) or Hailey Niswanger (NYC), alto sax; Russ Gershon, tenor and soprano sax; Charlie Kohlhase, baritone sax; Gilson Schachnik, piano; Rick McLaughlin, bass; Pablo Bencid (Cambridge) or Oscar Suchanek (NYC), drums; Vicente Lebron, congas.
The E/O has had an exciting past year and half. The group celebrated its 25th anniversary with two alumni concerts in Boston and New York, featuring the aforementioned musicians and approximately 30 others in unique configurations revisiting a startling array of composers and styles. AllAboutJazz.com review.
In March of 2011, the band continued its ongoing collaboration with Ethiopia's most honored and beloved singer, Mahmoud Ahmed, a pairing which will continue in November of 2012 with three concerts in Edmonton, Calgary and Camrose Alberta, Canada. Review in the Boston Herald.
In May of 2011, the E/O returned to Ethiopia to revive the music of Nerses Nalbandian, an Armenian who rose from immigrant music teacher to national maestro of Ethiopia, appointed music director of the Haile Selassie National Theater in 1956. Much of this music had not been played since the 1960s, and Gershon had to reconstruct it from old scores and recordings. During this trip, the E/O was also featured at a 50th Anniversary Celebration of the Peace Corps and USAID, sponsored by the US Embassy in Addis Ababa. United Airlines Hemisphere Magazine covered this tour and Gershon's October 2011 return to Ethiopia.
Late 2011 and early 2012 found the group on tour in the Northeast to debut The Collected Unconscious, an ambitious suite commissioned from Gershon by Chamber Music America. The eight-part piece received ecstatic reviews, including Lucidculture.com. The band recorded the 80 minute long work at Futura Sound in Boston in February, and hopes to have it released in early 2013, possibly on the composers' own Accurate Records.
Other projects in the works include a documentary about the May 2011 tour in Ethiopia, as well as live recordings from those concerts, in Addis Ababa, Dire Dawa and Nazret; live recordings with Mahmoud Ahmed; concert videos of the Alumni reunion concerts. And the prolific pen of principal composer Gershon continues to create new tunes for the band, including a backlog of yet unreleased material.
Video of the Either/Orchestra with Mahmoud Ahmed
Video of the Either/Orchestra's song "The (one of a kind) Shimmy