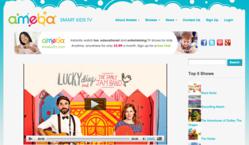 "Ameba TV is one of the most revolutionary, smartest, and conscientious media resources out there for kids and content creators right now." -- Lucky Diaz and the Family Jam Band
Winnipeg, Canada (PRWEB) July 26, 2012
Ameba (http://www.amebatv.com), a multi-platform frontrunner in the exploding children's streaming TV market, today announced that it has expanded its vast library of award-winning kids' TV programming to include videos from Lucky Diaz and the Family Jam Band. USA Today and CBS recently named Lucky Diaz and the Family Jam Band "the best new band on the children's scene." Meanwhile, Google TV recently named Ameba its "App of the Week."
"We are excited to share Lucky Diaz and the Family Jam Band's energizing beats and funny bone-tickling lyrics with kids throughout the U.S. and Canada," says Ameba CEO and founder Tony Havelka. "We're pleased to bring our newest content partner to young viewers -- no matter where they are. And no matter which screen they watch, big or small, at home or on the road."
Lucky Diaz and the Family Jam band is led by award-winning musician and songwriter Lucky Diaz, and his partner, comedian and actress Alisha Gaddis. The Los Angeles-based duo has garnered international acclaim for their albums, A Potluck, Oh, Lucky Day!, and Luckiest Adventure.
"We are so thrilled to join the Ameba TV team," says Lucky Diaz. "Ameba TV is one of the most revolutionary, smartest, and conscientious media resources out there for kids and content creators right now. Ameba TV is truly made for the wee ones (and their big people, too!). You can tell Ameba TV really cares about their content, usability, and multi-platform accessibility for families. Plus, Ameba TV is fun! We are honored to be included and cannot wait to watch Ameba TV explode into awesome!"
Award-winning children's content
Ameba's ever-expanding content library, which contains thousands of hours of educational, preschool, musical, and multilingual children's cartoon and live-action programming for kids ages two to 12, includes award-winning shows like: three-time Emmy Award-winning WordWorld; Emmy-nominated The Cat in the Hat Knows a Lot About That; CFTPA Best Children's Program BusyTown Mysteries; Emmy Award-winning Mother Goose Club; Emmy Award-winning The Zinhoppers; Gemini Award-nominated and Writers Guild of Canada Award-winning Ruffus the Dog; Gemini Award-nominated A World of Wonders; Kids First!-approved Parents' Choice Silver Honor-winning Ruby Skye P.I.; and Parents Choice Gold Award-winning Mustard Pancakes.
Affordable subscription, multiple ways to watch
For $3.99 per month, Ameba delivers an extensive library of engaging, age-appropriate children's TV shows and videos, online and across a wide and always-expanding variety of platforms, including Google TV, Roku, and LG Smart TV.
Contact info.:
For more information about Ameba TV, please visit http://www.amebatv.com, or contact Kim Lachance Shandrow at 562-972-3956.
For more information about Lucky Diaz and the Family Jam Band, please visit http://www.luckydiazmusic.com.