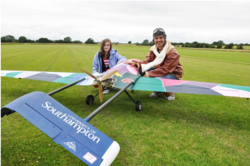 "We were delighted that our workshop was able to convert Izzy's winning graphic design concept in to reality" Ian Halliday, CEO of 3T.
(PRWEB UK) 27 July 2012
Izzy Bennett, 11, from Exwick in Exeter produced the winning name, the 'iflyer' and the winning graphic design, and was presented with her Blue Peter badge and replica plane by Blue Peter presenter Barney Harwood.
Talking about her graphic design, Izzy says: "I really liked how the colours go together, it's like colourful camouflage. I told all my friends and family to watch Blue Peter, I think they were all really surprised to see me on there."
The plane, designed by University staff and students, has been developed in collaboration with BBC Research and Development over the last few months, to equip an "unmanned aerial vehicle" (or UAV for short) with broadcast cameras.
BBC R&D has developed new technology for the UAV to enable filming, with improved shot stability and accuracy, for its news, sport and documentary programmes. They have also provided the capability to stream live HD footage directly from the aircraft to a computer in real time.
The petrol-powered plane, with a 4.2m wingspan, has a top speed of 42.5mph and can fly for two hours with a maximum fuel load at an economic cruise speed of 24.5mph.
Professor Andy Keane, from the University's Computational Engineering and Design Research group, adds: "This particular UAV is a brand new design developed by staff and students. The University has been at the forefront of UAV development since the early 1990s and we have recently introduced a taught Master's degree in Unmanned Vehicles System Design for students from around the world. I hope that this latest plane helps the BBC understand the potential of UAVs in more detail."
Key parts of the plane were built using Additive Manufacturing – or 3D printing – by 3T RPD and 3T's workshop converted Izzy's winning graphic design into reality by painting the livery on to the plane.
3D printing works by converting 3D CAD engineering drawings into solid objects from nylon powder using laser melting. The object is built, layer by layer, with each layer the thickness of a human hair. It allows designers and engineers to create complex and lightweight parts rapidly. A number of parts were built for the Blue Peter plane including the nose cone, main fuselage, the camera housing, tail fin and the wing tips.
Ian Halliday, CEO of 3T, says: "Additive Manufacturing is an ideal technology for producing parts for UAVs and we believe that the Blue Peter "iflyer" has the potential to excite a new generation of engineers. We were delighted that our workshop was able to convert Izzy's winning graphic design concept in to reality."
Related Links:
BBC Research and Development
Southampton University - MSc Unmanned Vehicle Systems Design
BBC Blue Peter
Collaborative Project with Southampton University: Advanced UAV