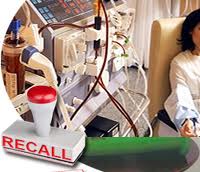 Philadelphia, PA (PRWEB) July 26, 2012
Levin, Fishbein, Sedran & Berman, a prominent national plaintiff law firm, alerts patients that on June 27, 2012, the FDA issued a Class-1 recall for Fresenius Medical Care North America's dialysis products, Naturalyte Liquid Acid Concentrate and Naturalyte GranuFlo (powder) Acid Concentrate, due to a risk of potentially fatal serum bicarbonate levels. Naturalyte Liquid and Naturalyte GranuFlo are dialysis products. According to the FDA, Class I recalls are the most serious type of recall and involve situations in which there is a reasonable probability that use of a product will cause serious adverse health consequences or death.
According to the New York Times, on November 4, 2011, Fresenius sent an internal memo to doctors in the company's dialysis centers informing of the risk warning that 941 hemodialysis patients experienced cardiac arrest at 667 Fresenius facilities in 2010. The company conducted an analysis of these patients, comparing them to over 80,000 other dialysis patients in the same centers. Overall, the data indicated that excess bicarbonate, or alkalosis, significantly increased the risk of heart problems in hemodialysis patients. However, Fresenius failed to inform the FDA and other Dialysis facilities using its products of the potentially fatal danger until it was forced to do so in March, 2012, when an anonymous copy of the internal memo was leaked to the FDA. In May, the FDA issued a Safety Communication warning about alkali dosing errors for products like GranuFlo and NaturaLyte in hemodialysis patients.
Levin, Fishbein, Sedran & Berman has a long and successful history as a leading Plaintiff firm protecting the rights of patients affected by defective drugs and medical devices. The firm has lead in high-profile cases in federal and state courts across the country. Though unable to guarantee results, the firm has a 30+ year distinguished track record of success and is highly committed to each case and to each victim it represents.
If you or a loved one has suffered a sudden cardiac arrest or sudden heart attack following dialysis with GranuFlo or NaturaLyte, contact Levin, Fishbein, Sedran & Berman for a free and confidential case review at 1-877-882-1001, or visit at http://www.lfsblaw.com. You may be entitled to recover damages and ease the financial challenges of medical treatment.
Contact:
Michael M. Weinkowitz, Esquire
MWeinkowitz (at) lfsblaw (dot) com
or
Laurence Berman, Esquire
LBerman (at) lfsblaw (dot) com
Levin, Fishbein, Sedran & Berman
510 Walnut Street
Suite 500
Philadelphia, PA 19106
Toll Free Telephone: (877) 882-1001
Fax: 215 592-4663
Attorney Advertising. Prior results do not guarantee or predict a similar outcome with respect to any future matter.