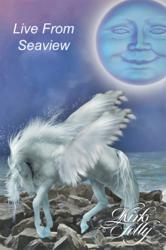 "We're thrilled to be able to bring our collectors a unique experience that seamlessly blends shopping with fantasy"
Providence, Rhode Island (PRWEB) July 26, 2012
Kirks Folly, an internationally recognized leader in fantasy themed jewelry and accessories, is conjuring up a new vision of internet shopping at home with their innovative online mini-series "Live from Seaview". On Saturday, July 28th, 2012, they'll present specially selected items from their captivating collection of fantasy jewelry, home decor, fashions, and accessories during three enchanting shows beginning at 12 noon (EST). The production will be professionally filmed in High Definition to stream live over the internet at http://www.KirksFollyLive.com and http://www.Facebook.com/KirksFolly. Viewers, who will be able to immediately purchase every item shown (while supplies last), will be transported to Fairyland via elaborate sets, lavish costumes, and fantasy guests.
"Live from Seaview" will originate from co-owner Jenniefer Kirk's oceanside home, affectionately known as Seaview, in Cranston, RI. She'll be joined by former television shopping host Patricia Bastia as they present a dazzling array of fantasy jewelry including fairy jewelry, mermaids, angel jewelry (featuring the popular Dream Angel handcrafted art glass stone), dragonflies and other enchanted garden delights, moon and star motifs (including their beloved Seaview Moon dream stone), and fantasy clothing from their opulent DreamKeeper Collection of fashions and accessories. Many of the items will be brand new, having been specially created for the mini-series. The handcrafted jewelry--which always sparkles with the brilliance of genuine Austrian crystals--will run the gamut from earrings, bracelets, necklaces, and pendants to pins, charms, and rings. Home decor items will include a very collectible limited edition Seaview Moon wind chime which is sure to excite their avid family of collectors. Every item shown during this special event will be available for immediate purchase online (while supplies last).
The mini-series will bring a virtual Fairyland to life with each of the three shows taking place on its own magical set, so viewers will visit a new enchanted realm with each segment. Should they wish to purchase an item, they'll also be delighted to discover that special offers will abound--such as sale prices and free shipping.
"We're thrilled to be able to bring our collectors a unique experience that seamlessly blends shopping with fantasy," Kirk said. "Our designs are born of enchantment, and events like this allow us to reflect the magic of our creations while entertaining our viewers with a glimpse of a dreamlike realm."
The shows will be broadcast exclusively online and will remain available after the mini-series for viewing on demand (though the items may not remain available for purchase). Kirks Folly has partnered with LiveStream.com to deliver the shows to internet viewers. LiveStream is a proven leader in live event coverage with an impressive roster of high-profile corporate clients. As in all endeavors, Kirks Folly is dedicated to the concept of "only the best", making LiveStream the perfect match for "Live from Seaview".
While the live online venue is a trailblazing event, the fantasy aspect of the shows is tried and true. Kirk explains, "Each of our customers has a favorite theme that speaks to them. Whether it's fairies, angels, storybook characters, ocean mermaids, wizards and dragons, moons and stars--we know they expect to find products based on these. And when we bring their favorite theme to life through elaborate sets or special guests, they're absolutely over the moon!"
Kirks Folly expects both long-time collectors and curiosity seekers will want to "tune in" to see how this new concept in internet shopping at home unfolds. They encourage everyone to mark their calendars for Saturday, July 28th, 2012, for "Live from Seaview" at http://www.KirksFollyLive.com and http://www.Facebook.com/KirksFolly. The 5-hour mini-series will be presented in three segments: the first 2-hour show, "Enchanted Seaside", will stream live from 12 Noon-2 p.m. EST (that's 9-11 a.m. PT); the second hour-long show, "Summer Fairy Tea", airs from 3-4 p.m. EST (12 Noon-1 p.m. PT); and the last show, "Twilight Dreams", will run for two hours from 5-7 p.m. EST (2-4 p.m. PT).
"Enchanted Seaside", the first show of the "Live from Seaview" mini-series, airing from 12 Noon-2 p.m. EST, will feature Kirks Folly items available on http://www.Amazon.com. Kirks Folly has successfully partnered with Amazon to introduce some of their most popular themes to a new audience of internet shoppers. Most notable among these is jewelry inspired by renowned fantasy artist Josephine Wall's painting "Spirit of Flight"--and some brand new additions to this cherished collection will debut during this show! Every item featured during these two hours will have free shipping. Viewers who click to order an item will be taken directly to Amazon's website to make their purchases.
During "Summer Fairy Tea", from 3-4 p.m. EST, viewers will see items available on http://www.QVC.com. Jenniefer and Patricia will be joined by the King of the Fairies for a delightful show filled with 20+ new items. (Viewers will have caught a glimpse of many of these items during Kirks Folly's QVC show, "Mermaid Madness", on Thursday, July 26th). During this online hour, they'll be able to see every glorious detail and hear the full story behind each piece! Viewers who click to purchase will be taken directly to QVC.com to place their orders or, if they prefer, they can phone their orders to QVC at 1-800-345-1515.
The final segment of the mini-series, "Twilight Dreams", will be from 5-7 p.m. EST. Over 45 brand new additions to the Kirks Folly online store at http://www.KirksFollyStore.com will be unveiled during this fast-moving show! Every item presented will be at least 25% off the retail price--and viewers who belong to Kirks Folly's Collectors Club will receive an additional 10% off each item. Clicking to buy these items takes the buyer directly to KirksFollyStore.com to complete the purchase.
Kirk says, "Our more elaborate televised shows always drew viewers who never purchased a thing but just wanted to enjoy a visit to Fairyland. We welcome them the same as we do our most ardent collectors. We like to call these escapes 'dancing with the fairies' and invite everyone to join us!"
Kirks Folly was founded in 1979 and is owned and operated by the four Kirk siblings--Jenniefer, Elizabeth, George, and Helen. Their designs were launched in New York City's iconic Bloomingdale's and have since been offered in leading stores and select boutiques across the USA. They debuted on QVC in 1992 and have since appeared on QVC's international networks, including QVC London where they have a very devoted following. They expanded their fantasy collection to include fashions and accessories in 2003 with the premiere of their DreamKeeper Collection. They recently brought their magical touch to the world of paper crafts with the debut of "Crafting with Kirks Folly" on QVC London featuring premium papers and whimsical enhancements. Throughout their 33 years in business they've embraced a philosophy that empowers them in every new venture: if you can dream it and believe it, you can do it!