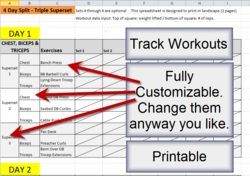 Supersets can shave off 40% of your workout time and still generate incredible results.
(PRWEB) July 27, 2012
The free printable spreadsheets span 9 superset workout templates. Each include suggested exercises for anyone to get started quickly. They can also be modified directly within the spreadsheet and printed. The printed versions include preformatted workout data tracking tables.
Superset workouts are an efficient way to get through workouts, whether in the gym or at home. The concept entails doing exercises back-to-back with no rest. There are many combinations that can form a superset. The most common is targeting two different muscle groups back-to-back.
An example of a superset, as set out on the Fitness-Baron.com website is doing one set of a chest exercise such as bench press followed immediately by one set of a back exercise such as a seated row.
About
Fitness-Baron.com was launched in 2012.
Fitness-Baron.com's mission is to inform and educate people about creating and executing efficient workouts that get results. The foundation of the efficient workout concept is supersets.
For more information about getting Fitness Baron's superset workout spreadsheets:
http://www.fitness-baron.com/guide-to-creating-a-weight-liftingsuperset-workout/