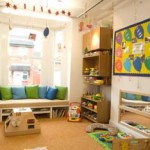 "We build strong relationships with our parents and listen to all their comments and suggestions. We're hearing more frequently that they are under more pressure at work and often having to put in longer hours"
Reading, Berks (PRWEB UK) 30 July 2012
As Nicole, the Nursery Manager explains, "Juggling work and childcare can be tricky; that's why we're proud to say that we are the only nursery in Reading that offers 7 'til 7 childcare! The 9-to-5 job is a thing of the past, and here at the Wigwam Nursery, we realise that this means 8-to-6 childcare is too. We don't envisage most people utilising the full 12 hours on a regular basis; it's about the convenience really. If you need an early start or late finish, our customers won't need to arrange alternative childcare, and that's less disruptive for the children!"
Standard opening hours for nurseries across Reading are 8AM to 6PM. People have busy lives and many jobs no longer fit the standard 9AM to 5PM. Workforces are being required to be more flexible, and this has a knock on effect on childcare.
Nicole added, "We build strong relationships with our parents and listen to all their comments and suggestions. We're hearing more frequently that they are under more pressure at work and often having to put in longer hours. When there's stress at work, the last thing they want to be worrying about is racing against the traffic to make it to work on time in the morning, or nursery before closing in the evening! That's why we decided to extended our opening hours. We really wanted to make some positive changes to help"
Many people commute quite a distance to work and having the flexibility to drop off and pick up their children any time within a 12 hour window builds in some slack to cope with bad traffic, late trains and over running meetings! Aileen Peirce, who sends both her son and daughter to the Wigwam Nursery, commented, "The Wigwam's flexible opening hours enabled me to go back to the job I love after having children. Commuting would have been impossible with an 8am nursery start and I'm very grateful to the Wigwam for enabling me to manage my working hours with flexible start times."
Emma Tennant, co-director of the Wigwam Nursery is justifiably excited about the new extended opening hours, "We're passionate about providing the best possible childcare and an essential part of that service, for us, is talking and listening to our customers. If you don't respond to their changing needs then all the dialogue is meaningless, which is why we're so pleased to be announcing our extended opening hours for Childcare in Reading We know this is going to make a real difference to a lot of the families here at the Wigwam nursery."