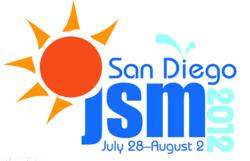 Alexandria, VA (PRWEB) July 26, 2012
Statisticians from the U.S., Canada, and around the world will arrive in San Diego beginning Saturday to attend the 2012 Joint Statistical Meetings (JSM), the world's largest annual gathering of statisticians, at the San Diego Convention Center from July 28—August 2. On Monday, July 30, they will hear Alan Krueger, chairman of the President's Council of Economic Advisers, deliver the keynote address – the American Statistical Association's President's Invited Address -- at 4 pm.
The conference, with the theme of "Statistics: Growing to Serve a Data Dependent Society," will bring 6,000 statisticians to the city to participate in the more than 2,500 oral presentations, panel sessions, and other activities. On Tuesday evening, Robert Rodriguez, ASA president, will deliver a talk titled "Building the Big Tent for Statistics." Complete information about the conference is available at http://www.amstat.org/meetings/jsm/2012/index.cfm, and in the JSM virtual newsroom.
*** Media Registration
Members of the media are invited to participate in any or all of the sessions at JSM. Media registration is required; call Rosanne Desmone at 703.946.3820 or use the form at http://www.amstat.org/meetings/jsm/2012/pressregistrationform.cfm. Press credentials can be picked up, and also may be requested, at the Special Assistance Desk in the registration area of the conference.
***Topics of Interest
Statistics enhances our understanding of and plays a critical role in the decisions that impact our daily lives. Sessions at JSM will provide a glimpse into the ways in which statisticians contribute to a broad range of disciplines important to everyone. The rich variety of contributions made by statisticians will clearly be on display this week. JSM news releases contain information on many of the subjects under discussion; you can view the releases at http://www.amstat.org/meetings/jsm/2012/newsreleases.cfm.
The Highlighted Sessions page contains information on sessions of particular, timely interest. You can view these sessions at http://www.amstat.org/meetings/jsm/2012/highlightedsessions.cfm. Many of the presenters listed are available for interviews, and many of ASA's media experts also will be available. Please contact Rosanne Desmone (contact info above) if you are interested in interviewing any of the participants.
***Attendees
The JSM participants represent academia, business & industry, and federal, state, provincial, and local governments. While the majority of participants are from the US, Canadians also are well represented, since the Statistical Society of Canada is one of the groups that participates annually in JSM. There also are 250 presenters and more than 700 attendees from San Diego and California. International participants represent every continent except Antarctica.
About JSM
JSM, which has been held annually since 1974, is conducted jointly with the American Statistical Association (ASA), the International Biometric Society (ENAR and WNAR), the Institute of Mathematical Statistics (IMS), the Statistical Society of Canada (SSC), the International Chinese Statistical Association, and the International Indian Statistical Association. JSM activities include oral presentations, panel sessions, poster presentations, continuing education courses, exhibit hall (with state-of-the-art statistical products and opportunities), career placement service, society and section business meetings, committee meetings, social activities, and networking opportunities. JSM 2013 will be held in Montreal, Canada, and JSM 2014 will be held in Boston, where ASA had its beginnings in 1839.
About the American Statistical Association
Headquartered in Alexandria, Virginia, the American Statistical Association is the world's largest community of statisticians and the second oldest continuously operating professional society in the United States. For more than 170 years, the ASA has supported excellence in the development, application, and dissemination of statistical science through meetings, publications, membership services, education, accreditation, and advocacy. Its members serve in industry, government, and academia in more than 90 countries, advancing research and promoting sound statistical practice to inform public policy and improve human welfare. For additional information about the American Statistical Association, please visit the ASA web site at http://www.amstat.org or call 703.684.1221.
For more information and interview requests:
Rosanne Desmone
703.946.3820 (mobile)
rdesmone(at)mtvernonpr(dot)com