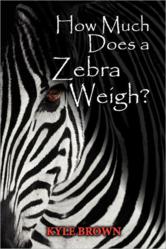 "The easy and practical nutrition and fitness secrets revealed in this book will transform the way teens live their lives." -Celebrity Personal Trainer & Nutritionist Kyle Brown
San Diego, CA (PRWEB) July 26, 2012
How Much Does A Zebra Weigh? (For Our Future Publishing, ISBN 978-0-9849922-1-8, $14.95) promotes the concept that self-confidence comes from building a sound mind in a healthy, strong body. The easy and practical nutrition and fitness secrets revealed in this book will transform the way teens live their lives. These are the same tools Kyle used to change from a scrawny, shy kid who struggled to fit in- into a leader in the fitness industry. Teens will learn what he teaches world-class professional athletes and the biggest celebrities to give them that A-list edge.
In this book, celebrities and professional athletes like Jeff Garcia, Shannon Mac Millan, Kenton Duty, Stephan Bonnar, Debbe Dunning, Steve Timmons and others offer their insight on their journey to living the life of a champion. How Much Does A Zebra Weigh? is the manual to the free online game for teen nutrition and fitness called The 21-Day Strive 4 Fitness® Game, found on http://www.thezebrabook.com. It's a kick-start to transform the way teens look, feel, and think in just 21 days-- and provides teens with hands-on tools to apply the book's unique nutrition and fitness principles into an on-the-go twenty-first century lifestyle. Readers will learn cutting-edge fitness tips and how to cook and prepare quick, easy, and delicious meals and snacks. Also, they'll be able to conquer habits for eating out at restaurants or getting fast food! Best of all, the book provides teens a fun and easy step-by-step game plan to achieve a fit and healthy body and maintain it 365 days a year.
Both teens and adults alike across the nation, who have previewed the book or heard Kyle speak on the topic, have successfully transformed the way they live their lives. Through this book and online program, teen readers will discover how to make fitness and nutrition fun and easy to understand by learning how effortlessly the rest of the animal kingdom does it.
Brian Koenig, a high school senior in Youngstown, Ohio noted, "After hearing Mr. Brown speak back in October, I was inspired to change my life. I read his book twice, and my Mom read it. What I learned has transformed both my confidence and my overall happiness, as eating healthy and exercising have become fun parts of my new lifestyle."
About the Author:
Kyle Brown is a health and nutrition expert whose portfolio includes everything from leading workshops for Fortune 500 companies and authoring articles in top-ranked fitness journals to training celebrity clientele -- from pro and Olympic athletes to CEOs to multi-platinum recording artists. In 2010 and 2011, he was voted San Diego's Best Personal Trainer by the readers of The San Diego Union Tribune. Kyle is the CEO and creator of FIT 365, an all-natural, complete low-calorie meal in a shake. After a decade of training the elite, Kyle has committed himself to joining the fight against childhood obesity in partnerships with organizations including The National Police Athletics/Activities League (PAL). For more information visit http://www.TheZebraBook.com
To request a review copy or excerpt of How Much Does A Zebra Weigh?, please contact Kyle Brown at (858) 794-7777 or info(at)strive4fitness(dot)com.
###