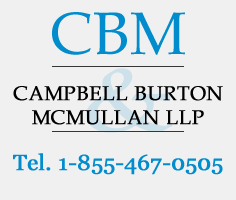 (PRWEB) July 27, 2012
The firm's family legal team regular consult fee is $250. With the current discount, anyone booking a family law consultation pays $200.
The Campbell Burton McMullan family legal team take initial consultations seriously. Their approach is to dedicate sufficient time for each consult in order to get a firm understanding of the matrimonial issues involved. The consult time includes providing legal advice if it can be provided without further research.
Consultations with a family lawyer can be made at any of the firm's 5 office locations in British Columbia: Langley, Surrey, Maple Ridge and Abbotsford. Payment for the discounted consultation must be made upon arrival.
The discounted consultation is upon request at time of booking or arrival.
About
Campbell Burton McMullan's family legal team have a combined 80 years of practicing family law in British Columbia. The team is comprised of four lawyers: Doug Simpson (partner), David Hart, Kendelle Pollitt and Kanchan Dhahan.
The family law department is one of many within the Campbell Burton McMullan firm, which is a full-service law firm serving the Fraser Valley since 1977.
For more information about booking a family law consultation: