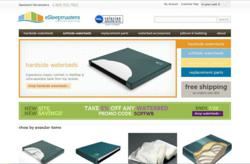 Tempe, AZ (PRWEB) July 27, 2012
ESleepMasters, a retailer with several years experience in home goods, announces they will now focus exclusively on waterbeds. A new website design also accompanies the change, on which hardside waterbeds and softside waterbed mattressess prominently feature.
Previously a mass retailer of home goods, ESleepMasters.com will now exclusively retail waterbeds, bedding, and related accessories. The site will feature traditional hardside waterbed mattresses and frames, as well as softside mattresses that work with standard furniture. Mattresses run the range from free flow to ultra-waveless, and come from mainstay brands including Boyd, US Watermattress, Innomax, Vinyl Products, Strobel Organics, and more.
The goal of the new website design was to provide a seamless, user friendly browsing experience that allows people to quickly locate what they are looking for. The website features a simple top menu with main categories, and drop-down menus with subcategories for quick and easy navigation. The home page prominently features current promotions as well as popular products and brands. A distinguishing feature of eSleepMaster's website is the navigation filters, which allow shoppers to sort results by size, mattress feel, brand, price and more.
"The decision comes after careful consideration," says CEO Moe Kittaneh. "We believe waterbed mattresses offer a great alternative due to their longevity, comfort, and value. They continue to be popular with customers, and a website dedicated specifically to water mattresses allows for a better shopping experience."
To mark the new launch, the company will be offering several promotions and coupon deals in the coming months to showcase products and invite customers. eSleepmasters.com has a waterbed sales page that lists current coupons and sales, and they are also on Facebook and Twitter.
ESleepMasters.com retails a wide variety of waterbed mattresses from top manufacturers, including parts, bedding, and maintenance supplies which can be found at http://www.esleepmasters.com/Waterbeds_s/2567.htm.
In business since 2006, ESleepMasters seeks provide low prices on top-quality products as well as excellent in-house customer service.