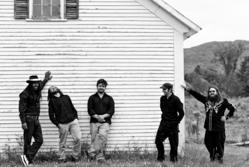 Straight Out of Vermont
(PRWEB) July 26, 2012
Every Saturday is typically a great one at Rock Wood Music Hall, voted by CBS Events as one of the top five music venues in NYC for 2012. The Aerolites will cap off another great night as they take the Rock Wood stage for the first time and continue on their quest to stir a big buzz in the Big Apple.
The sound that radiates from these guys is something you do not find often, or ever for that matter. The Americana inspired, blues sprinkled, and funk driven band has taken Vermont by storm. People do not pack the house to see them play without good reason.
The band recently released their new self-titled album, "The Aerolites" and has witnessed an incredible response from fans on the music site, Bandcamp. This shouldn't come as too big of a surprise as living legends Oteil Burbridge (Allman Brothers) and Kenny Aronoff (John Mellencamp) recorded with the band and provide unparalleled, deep rhythm throughout the music found on this twelve- track masterpiece.
Seeing the band perform on stage supplements needed meaning to the phrase, "great live music."
Rock Wood Music Hall welcomes The Aerolites, Saturday July, 28th at 1 a.m.
196 Allen St. NYC 10002