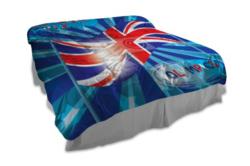 Pierre, SD (PRWEB) July 27, 2012
With strong competitors, artistic form, balanced compositions, and a great team of designers, VisionBedding is paying tribute to the Olympics with a collection of specially themed designs for all of its products. VisionBedding's CEO, Justin Poile is feeling that Olympic fever and going for gold with a gallery that brings together the sports and drama, the passion and focus, even the Parthenon and the familiar sights of London for everyone sharing the excitement of the 2012 Olympics.
Well-suited to gifts and souvenir products like bedding, pillows, rugs, and wall art, this new Olympic themed collection in VIsionBedding's galleries offers designs that range from the classical statuesque form of a discus thrower to a figure skater lost in a spin on the ice. With runners at the ready and high jumpers tucked over the bar, the discipline of Olympic athletes is on display with the precision of their form, whether balanced over the beam in a photographic design or swinging between parallel bars with graphic artistry.
Added to the thousands of custom size offerings in VisionBedding's sport themed galleries and designs that re-conceive the national colors of countries from Brazil to the U.K. in unique flag imagery, this Olympic themed collection lets athletes and supporters alike display both their national pride and their individual passion in their home and office decor.
Timed perfectly to coincide with the 2012 Olympics, this new collection of designs offers the added bonus of an easy way for those lucky enough to attend the Games to bring them home without involving the airlines. Whether purchased as gifts or mementos, VisionBedding's product lines present a decathlon of duvets and designer rugs, towels and wall art options that Olympic fans can cheer.