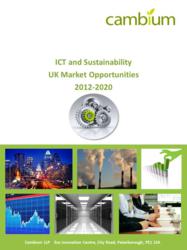 This is important news for IT developers and vendors. This study estimates the IT investment needed to achieve the UK Government's emissions reduction goals by 2020 and identifies new IT markets that will experience substantial growth.
(PRWEB UK) 27 July 2012
A new study by sustainable innovation specialists, Cambium LLP, is forecasting that IT will be key to the UK meeting its carbon emissions reduction targets over the next 8 years. The study is the first of its kind and draws on worldwide data and research in order to model what needs to happen in the UK in order for the Government to meet its targets of reducing greenhouse gas emissions by 34% by 2020 (from 1990 levels).
Evidence of the UK Government's continuing commitment to these targets was provided by yesterday's announcement that from April next year listed companies in the UK will have to report on their greenhouse gas emission each year in line with Government standards.
Cambium's comprehensive research predicts that in order to meet these targets this particular sector of the IT market will have to grow to be worth $9.74 billion. This represents an 11% compound growth on current levels and 3.5 times the growth of the IT market.
Cambium's Managing Partner, Tony O'Donnell said:
'This is important news for IT developers and vendors. This study estimates the IT investment needed to achieve the UK Government's emissions reduction goals by 2020 and identifies new IT markets that will experience substantial growth in the rest of this decade. Driven by new legislation such as mandatory greenhouse gas reporting, they represent a significant new opportunities for IT companies.'
This view is backed up by other leading industry figures:
'Information Technology is going to be fundamental to a sustainable UK in helping improve energy efficiency and reducing emissions. This new insight from Cambium is timely in sizing how much IT will be needed over the next 8 years and where much of it will be used.' - David Chalmers, EMEA Chief Technologist, Enterprise Group at Hewlett Packard
'As UK PLC responds to environmental driven legislation, this study provides important information to those requiring an informed and detailed insight of the new IT for Emissions Reduction market.' - Richard Lanyon-Hogg Chief Technology Officer, Industrial Sector for IBM (UK) Ltd
'The significant impact that ICT could make in reducing emissions is highlighted emphatically in this study. The analysis indicates that we may need a more nuanced approach to reducing greenhouse gas emissions: permitting the ICT sector to increase emissions, which would appear to provide a somewhat counter-intuitive route to achieving the UK Government's reduction targets.' – Mike Bonaventura, Chief Executive, Crichton Carbon Centre.
Cambium's research shows that information technology will have a critical role to play in helping the country achieve the necessary cuts by driving measuring, monitoring, managing and planning systems, as well as developing new ways for business to operate and become more energy efficient.
For the first time, this study estimates the size of the 'IT for sustainability' market for:
Hardware
Software
Services
Over the period 2013 to 2020 and broken out into the following sub-segments for IT investment:
Buildings
Dematerialisation
Energy Supply
Industry
Remote Work
Transport
The study has been written by Cambium's Head of Research, Iain Burns, with Tony O'Donnell, both of whom have deep experience of working in science, technology and sustainability including working at international level for large IT vendors of enterprise hardware, software and services.
To find out more or to download the Executive Summary, please visit http://www.cambiumllp.com. The full study is available to buy from http://www.cambiumllp.com for £495 + VAT.
Background
Who is The Report aimed at?
This study will be of particular interest to any hardware, software or IT services vendors who want to position themselves to benefit from inevitable rapid in this market. The study is a critical resource for IT vendors to help them:
Understand the size the available market
Identify key segments to target
Assess the readiness of their propositions, sales teams and to quickly identify key prospects
This is the first in a series of studies on the IT for Sustainability (IT4S) market. In the coming months future editions will explore this growing IT market and explain its impact for CIOs, Legislators, NGOs and other groups.
About Cambium
Cambium (UK) LLP is a unique specialist consultancy based in the UK and launched in 2008. Using a combination of research, consultancy and training, they help technology businesses with IT and cleantech innovations to accelerate their sales and capitalise on the transition to sustainable business models.
Their clients include, HP, IBM and many smaller IT and clean technology innovators.
Email: info(at)cambiumllp(dot)com or call 0845 638 3280