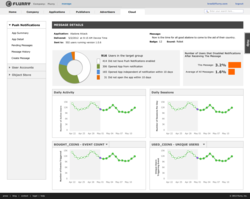 While many app developers know how to build great apps, they often underestimate the significant experience and cost required to effectively build, operate and scale network infrastructure that their consumers demand 24x7x365
San Francisco, CA (PRWEB) July 25, 2012
Flurry, the leading mobile app measurement and advertising platform, today announced the acquisition of Trestle, a Seattle-based mobile startup. Trestle provides app developers a robust cloud services solution to host their application backend saving development resources and expensive investments in backend infrastructure. Completing the acquisition in May, Flurry has worked for the last two months to integrate the Trestle service into the Flurry platform for compatibility with other Flurry services. The resulting service, Flurry AppCloud, was unveiled this evening in San Francisco to a crowd of more than 1,000 developers at the popular SF Newtech monthly meetup.
"While many app developers know how to build great apps, they often underestimate the significant experience and cost required to effectively build, operate and scale network infrastructure that their consumers demand 24 x7 x365," said Simon Khalaf, Flurry president and chief executive. "During our evaluation of numerous app cloud services companies to integrate, Flurry was very impressed with what the Trestle team built. We are excited to have the Trestle team join us and remain the driving force behind Flurry AppCloud."
Flurry AppCloud enables app developers to launch highly networked mobile apps without having to build scalable backend infrastructure. Flurry AppCloud provides developers user account management, scalable storage in the cloud and targeted push notifications segmented by Flurry Analytics data. Leveraging these services, developers can focus more of their time building great apps instead of worrying about IT infrastructure costs, data centers and hosting staff.
Flurry AppCloud is integrated with Flurry Analytics, uniquely providing developers exclusive benefits such as the ability to finely target push notifications to different parts of their audience and then measuring how those push notification messages affected the way those consumers use the developer's application. Additionally, because Flurry AppCloud is built onto the company's massively scaled infrastructure, developers can enjoy nearly limitless cloud storage for apps of any size. Flurry Analytics is used by more than 70,000 developers across more than 200,000 apps. Any existing Flurry Analytics customer can use Flurry AppCloud with just one SDK.
"We're very excited to make Flurry AppCloud available to the tens of thousands of developers that are currently using Flurry's analytics and advertising platform," said Brian Johnson, CEO of Trestle. "We share the Flurry vision of giving app developers an integrated platform upon which to build, measure, monetize and advertise their apps and are thrilled to be part of the Flurry team."
Flurry AppCloud is currently available in beta for Android and iOS applications and will be generally available later this summer. Flurry AppCloud is priced based on completed monthly data transactions where the first one million transactions are free and every additional one thousand transactions are priced at 5 cents. Developers can sign up for the Flurry AppCloud beta here.
About Flurry
Flurry helps companies thrive in the new app economy, helping them build, measure, advertise and monetize their applications. Flurry operates the industry-leading mobile app measurement and advertising platform powered by app usage insights gathered from more than 600 million iOS, Android and other devices per month. The company is venture-backed with offices in San Francisco, Seattle, New York, London and Mumbai.
Media contact:
Peter Farago
VP Marketing
Flurry, Inc.
peter(at)flurry(dot)com
+1-510-461-4450