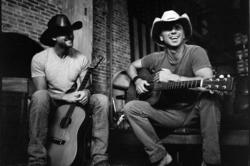 Denver, CO (PRWEB) July 26, 2012
What's the hottest tour so far this summer? According to industry publication Pollstar, Kenny Chesney and Tim McGraw's Brothers of the Sun trek tops the charts, raking in $4,272,326 in receipts as of July 20, 2012. Roger Waters is running second with $2,086,906, followed by Coldplay with $1,969,465, the Dave Matthews Band with $1,354,667 and Radiohead with $1,243,495 in gross ticket sales. Pollstar's numbers are based on average box office grosses per city from data provided to the trade publication by concert promoters and venue managers.
Chesney and McGraw's stops over the previous weekend in California showed the tour has star power beyond its headliners. On Saturday in Anaheim, they were joined onstage by actor Ashton Kutcher. At Sunday's show in Oakland, rocker Steve Miller showed up to perform his classic hits "Rock'n Me" and "The Joker" with Chesney.
Next came an emotional visit to Denver for a sold-out stopover Saturday, July 21, at Sports Authority Field at Mile High Stadium, following the tragic Aurora, Colorado theater mass shooting the night before. The next stop will be at Lucas Oil Stadium in Indianapolis on July 28, followed the next evening by a show at Cleveland Browns Stadium in Cleveland. The tour is scheduled to close August 25 in Foxborough, Massachusetts.
"We have hundreds of cheap Brothers of the Sun tickets now available at an exclusive discount on our site," said BuyAnySeat.com manager, Felina Martinez. "Fans can save as much as $200.00 at checkout."
"To access the exclusive discount we now have available, customers can go to BuyAnySeat.com and click on the Brothers of the Sun link on the homepage – then select their tickets and type in "VOC2012" in the discount code box at checkout," said Martinez.
It's been 10 years since country legends Kenny Chesney and Tim McGraw have teamed up on tour. This latest effort, a 19-date stadium songfest, began June 2, 2012 in Tampa, Florida. The tour also features Grace Potter & The Nocturnals and Jake Owen.
The country-crooning duo premiered their new duet, "Feel Like a Rock Star," at the 47th Annual Academy of Country Music Awards earlier this year on April 1 to rave reviews. Their latest tour comes on the heels of Kenny Chesney's successful 'Goin' Coastal' Tour, seen by more than 1.3 million fans, making it the year's biggest country tour. Chesney has sold more than 30 million albums, and has 22 Billboard Hot Country Songs #1s and eight Country Music Association and Academy of Country Music entertainer of the year awards. Chesney's 13th record, "Welcome to the Fishbowl," was also released in June.
Co-headliner Tim McGraw is a three-time GRAMMY winner who has had No. 1 singles in each of the last three decades – 32 in all – including the title track of his most recent album, Southern Voice. His 2010 tour in support of that album was also the year's biggest country tour. "Felt Good On My Lips", from his double-CD Number One Hits, spent three weeks at No. 1 earlier this year. McGraw is also an actor, having starred in the Oscar-nominated blockbuster, The Blind Side, and the critically acclaimed Friday Night Lights.
To check out the remaining dates for the summer's hottest tour, go to BuyAnySeat.com and click on the links for your cheap Brothers of the Sun tickets.
About BuyAnySeat.com: An online ticket retailer, BuyAnySeat.com connects sports, theater and other live entertainment fans to an extensive worldwide network of ticket sellers. The site's simplified listings and navigational tools enable shoppers to easily locate, compare and purchase cheap, discounted or lower-priced tickets to virtually all advertised sports and entertainment events around the globe. The site, which is PCI-compliant and Norton Secured, also provides customers with a complete Worry-Free Guarantee on all ticket purchases. Based in Denver, Colorado, BuyAnySeat.com is a subsidiary of Denver Media Holdings. For more information, please visit http://www.buyanyseat.com.