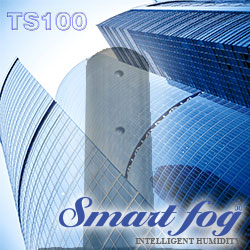 "Smart Fog TS100 Adiabatic Humidifiers is an ideal choice for induct humidification for customers who want to have precise nonfluctuating relative humidity and no free water in the ductwork."
RENO, NV (PRWEB) July 27, 2012
Smart Fog Inc announced this week the official release of TS100 HVAC adiabatic humidifiers. The TS100 is the first HVAC adiabatic humidifier to feature no condensation and precise nonfluctuating relative humidity control.
Smart Fog Commercial Humidifiers do NOT require any drain, droplet screens and specialized insulation.
The TS100 is a true adiabatic humidifier. The system does not utilize any thermal energy or high-water pressure. Humidity generated by Smart Fog adapts to the environment and does not cause condensation.
Short Lead Time customized solution.
"Smart Fog has the shortest lead time for the industry while providing configurable and customizable solution to fit the exact HVAC design needs, we can still have the customer up and running in 7-10 days."
Precise relative humidity control
No relative humidity fluctuations, mathematically generated elegant algorithms provide exact relative humidity control in both low and high air velocity HVAC systems. By precision engineering and control algorithms, Smart Fog has achieved 100% water efficiency.
Completely automated disinfection of entire HVAC system with no human presence required.
Many building facilities have started to utilize Smart Fog's unique disinfection solution to maintain a completely hygienic HVAC system and eliminated cleaning and maintenance costs.
"Smart Fog has always provided cutting edge commercial humidifiers for both space and in-duct applications. The key difference TS100 brings to the table is humidity without affecting the HVAC environment. The aerodynamic design and the true adiabatic humidifier functions ensure no heat or cooling is exserted by the system to the air flow."
About SmartFog:
In business since 1980, Smart Fog(R) Inc. is the recognized world leader in the industrial and commercial humidification systems industry. And, all products are manufactured in the U.S. Smart Fog, The Humidification Experts, is a world leader in developing unique industrial and commercial humidifier systems to meet the individual needs of your environment.
For more information, visit: http://www.smartfog.com