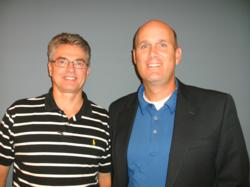 Loving My Neighbor is revolutionizing the way non-profits raise money
Plano, Texas (PRWEB) July 31, 2012
"Loving My Neighbor" announces a simple and easy means for donor's and fund raiser's to link together to assist the needy using social media. Loving My Neighbor is a person to person non-profit entity seeking to help people in need, and other non-profit companies with fundraising efforts. Co-founders and friends, Mark Warner and Brent Argyle created Loving My Neighbor after Argyle's son made the statement about his Dad's job, "'Wow Dad, not doing much to change the world, are you!'"
Argyle said that comment made him consider how he could help the people around him in need, and Loving My Neighbor was created.
Loving My Neighbor is revolutionizing the way non-profits raise money. LMN has developed a unique fundraising platform that allows Neighbors to create videos about someone who needs assistance, as well as raise donations for charitable causes such as Christian Community Action in Lewisville, Texas or Utah's Freedom Festival.
Loving My Neighbor is capitalizing on the use of social media such as Facebook, Twitter, and Pinterest for non-profits. Visitors to the website have several different ways to interact with Loving My Neighbor, including: watching video stories, sharing stories, donating to specific stories, or creating a video story about someone who is in need of assistance. Loving My Neighbor can assist Neighbors in Need™ in many areas including: bereavement, disability, domestic abuse, economic issues, education, elderly, sexual exploitation of minors, animals, and veterans.
Co-founder and Loving My Neighbor's Executive Director, Mark Warner stated; "Loving My Neighbor is a great way for neighbors and non-profits to assist the most vulnerable in our society including children, the disabled, and veterans." One such story is about Don and Candy who have been unemployed for over two years, have no health insurance, and are living with friends after losing their home and enduring numerous misfortunes. Mr. Warner further stated, "There are many real people, that need real help, and Loving My Neighbor we will be able to help lots of neighbors."
Visitors to http://www.lovingmyneighbor.org are encouraged to watch stories, donate and share them with their friends on Facebook, Twitter, and LinkedIn. The more people who learn about stories like Don and Candy's, and the Loving My Neighbor mission, the more assistance can be provided.
Loving My Neighbor also allows for non-profits to raise funds directly for their charity. Click the sponsors link to learn about this opportunity
About Loving My Neighbor: Loving My Neighbor is a non-profit dedicated to helping neighbors and non-profits, changing the world one neighbor at a time. Visit http://www.lovingmyneighbor.org to help Neighbors In Need or call 1-888-880-0071 for more information.