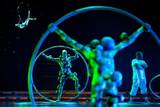 New York, NY (PRWEB) July 25, 2012
Zarkana began previews on June 9, 2011 and officially premiered on June 29, 2011 at Radio City Music Hall in New York City. It ran for several months and every show was a complete sell out. Due to overwhelming demand, Cirque du Soleil brought the show back for patrons that were closed out of tickets during 2011. This exquisite show will be in New York until Labor Day Weekend. On November 1, 2012, Zarkana will begin a run in Las Vegas at the Aria Resort & Casino - Elvis Theatre. This show will be in Vegas through the Christmas holidays ending on December 31st. It will take the place of Cirque du Soleil - Elvis which is ending this fall. Other cities that Zarkana has been seen in include Moscow and Madrid.
Cirque du Soleil is known for their unique shows which blend acrobatics and rock opera and their shows can be put in the contemporary circus genre. Critics have called Cirque a wonderful blend of circus arts and surrealism. Zarkana has successfully created a world of physical exhilaration. This amazing performance is based on a magician named Zark who has lost all his superlative magical powers along with love of his life. Many talented acrobats and other performers put their combined efforts together with great precision for Zarkana.
Zarkana can be described as an illustrated vortex set implanted in a slightly twisted musical plus acrobatic dream universe. Here chaos gradually yields to joy and love regained. The song entitled "Whenever" is a mesmerizing soundtrack which was produced as a result of Zarkana's inspiration.
The main requirement of Cirque du Soleil for rehearsal of their shows is a facility that has huge ceilings. This is to accommodate artists and acrobats so that they can have a good rehearsal without any limitation of a small area. Cirque unfortunately failed in finding an appropriate practice and trial place for Zarkana at the Montreal headquarters. Therefore, the company had to look around for large enough spaces in the States.
Ultimately, the rehearsals for Cirque du Soleil Zarkana were done at Amway Arena in Orlando. Zarkana's crew and artists stayed there for a couple of months and it was a win-win situation for this city because it brought a great economic boost in the city. This is because approximately 200 Cirque performers stayed in Orlando plus the rental of the Amway Arena was about $2,500 USD per day. Zarkana is comprised of the following acts performed by a brilliant group of artists accompanied by astounding acrobats.
Juggling
Ladder trio
Rope duet
Flags
Russian bar
High wire
Cyr wheels and Cerceaux
Sand painting
Flying triple trapeze
Wheel of death
Hand balancing
Banquine
Cirque Zarkana traveled to Madrid and Russia during the early part of 2012 and it is now back at the Radio City Music Hall and on November 1st it will begin in Las Vegas for the Christmas Holidays.
About CheapConcertTickets.me:
Cheap Concert Tickets delivers tickets to sold out concerts and events worldwide when no one else can, and they do so at discounted prices. As a member of TicketNetworkDirect, they can guarantee the delivery of tickets on time for sporting events like NASCAR, NBA, NFL, and NHL, and for the hottest theater and concert events too. This trusted website has discounted The Who Tickets, Justin Bieber Tickets and Fresh Beat Band Tickets. With CheapConcertTickets.me customer service is a priority, for more information email support(at)cheapconcerttickets(dot)me.