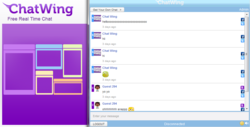 Albuquerque, NM (PRWEB) July 26, 2012
Product selling in the Squarespace community has increased by a significant percentage, based on the numbers of websites created for this purpose. Because of this inevitable fact, the Chatwing development company has introduced a chat box that can help Squarespace product sellers gain the communication leverage they need. The Chatwing chat tool also has a social media integration feature, and product sellers can definitely use this to reach their target market.
Chatwing's social media integration feature has contributed to its overall rank. With this option, guests and visitors can now log in with their Facebook and Twitter accounts. For online sellers in Squarespace, this is an opportunity to share information about their products. Additionally, they can now expand their social networks to a certain degree. Chatwing's free chat box can also be installed in just seconds and it is compatible to most blogs and websites. Social sharing option also allows Chatwing users to share their conversations with their friends and acquaintances.
The Chatwing dev team has also introduced the free shoutbox to prominent blogging communities such as Livejournal and Wordpress. From these blogging communities, the Chatwing chat app has generated thousands of signups. Common famous niches observed were hobbies, humor, technology, current events, movie reviews, travel, and food. The Chatwing team has also laid out a strategic plan in which the free chatbox will be introduced to different online sectors. In this way, many people will be able to utilize Chatwing's communication potential.
To deal with the projected influx of users in the coming months, the Chatwing dev team is always ready to introduce backend upgrades to the chat widget. This will ensure that users will be able to communicate effectively without technical glitches. From the current 600-user capacity, the Chatwing team is also planning to upgrade it to 1000. Now, many people from various niches will be connected using Chatwing's simple chat tool.
About Chatwing.com
Chatwing.com specializes in the new field of website chat. Over years, the Chatwing team has introduced live chatbox for hundreds and thousands of blogs. The Chatwing application bridges people from many parts of the world, creating global synergy through the Internet. The shout box can be installed in just seconds, and it can be used for varying purposes such as leisure and Internet marketing. It also allows a user to customize the size, color, and name of the widget. Chatwing is 100% free for everyone.