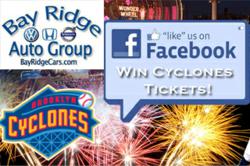 Brooklyn, NY (PRWEB) July 26, 2012
Bay Ridge Auto Group, specializing in Honda, Volvo and Volkswagen is running an aggressive social media campaign through their Honda dealership for local fans of the Brooklyn Cyclones. Each person is awarded one entry into the drawing which is available exclusively on their Facebook fan page. The details of the event are listed below:

One entry per person unless sending a referral to the sweepstakes.
Once entered each person is awarded a unique referral URL. Using this URL each person is awarded an additional entry for each person they refer that successfully enters into the drawing.
What Can Be Won?
The owners of Bay Ridge Auto Group are looking to reward their loyal fan base this summer with some great seats for them and their family or friends at the Brooklyn Cyclones games all season long. For local baseball fans this is going to be a great event to take part in! Below are the details of what will be awarded to lucky winners of the weekly drawing (for select home games):
4 passes see the Brooklyn Cyclones.
There will also be a grand prize drawing that will award 17 passes to a suite (skybox seats) to see the Brooklyn Cyclones play the final game of the season. Food and drinks are included.
As you can see, Bay Ridge Auto Group and Bay Ridge Honda want to really have some fun this summer and is expressing that through this baseball giveaway incentive. All you have to do enter is visit our Facebook page and enter to win your tickets to see the Brooklyn Cyclones with your family and friends this summer on us!
For questions or more details about the contest simply call us at 866-344-0848 or visit Bay Ridge Honda in Brooklyn at 8801 4th Ave.