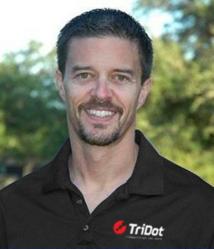 Triathlon Coaching world is going to see a significant upgrade to the technology available to them with this coaching system.
Dallas, TX (PRWEB) July 27, 2012
TriDot today announced that it will launch an upgrade to the TriDot Triathlon Training System technology in the coming weeks. Already used in thousands of training cycles by athletes
worldwide, the TriDot training system's latest release was officially launched in July of 2012. The new release is going to provide significant technological upgrades to the systems, as well as enhanced features for athletes in both the free trial and the paid membership area of TriDot Triathlon Training System..
With the TriDot System," says TriDot Founder and CEO Jeff Booher, "The Triathlon Coaching world is going to see a significant upgrade to the
information available to them with this coaching system. The technology
we're introducing provides a new standard for coach-athlete interaction in
Triathlon. We believe that the lack of information for coaches is the main
impediment for them to help their athletes to reach their triathlon goals. So many
athletes and coaches get lost in meaningless 'data' and miss the critical
actionable information. Our system's technology turns data into information
so coaches and athletes can focus on the intangible and subjective elements
of the sport that so many athletes neglect.
The TriDot™ Training System is a patents-pending technology and methodology for Triathlon Coaching that allows athletes to reliably receive training that is customized to fit their age, experience in the sport, performance ability, racing goals, and much more. Instead of relying on a random application of generic training principles, the TriDot™ System database and extensive algorithms assist coaches by producing training plans for each athlete based on data from thousands of training cycles of athletes that have already used the system. As the system grows, the training data continues to integrate the results of new athletes to produce more accurate results for training plan development. "The system will continue to improve, as more athletes join and add more data to the system. That is the beauty of the system," says Booher.
The TriDot™ System is a one-of-a-kind, patents-pending triathlon training and racing system developed based on extensive and ongoing primary research since 2004. The TriDot™ System's Intelligent Design Process (IDP) is a data-driven process that produces optimized training programs built for each athlete that deliver maximum results per training hour invested. The result is: more performance gains and/or less training time. The TriDot™ System takes the guesswork out of triathlon training and racing.
This Press release was created and distributed on behalf of TriDot™ System by Prism Communications Inc. Prism Communications is a full service internet marketing company that cuts through the myriad of internet marketing tactics and develops a coherent strategy for companies looking to grow their online presence. To learn more about Prism Communications, or to contact them for a free consultation for internet marketing solutions, email them at sam(at)prism-communications(dot)com or call them at 917.319.2229.