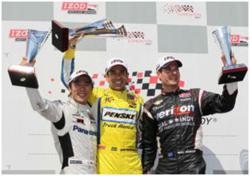 "It is a fantastic result. I am very pleased for the team and very proud of our effort today. It wasn't an easy race. " Takuma Sato
Irvine, California (PRWEB) July 26, 2012
Takuma Sato, one of the most acclaimed Asian driver, celebrated his career-best second place finish at Edmonton Indy held on July 22, 2012. Sato had a great start and competed aggressively for the championship title until the very end, finishing less than one-second in a close-fought battle behind Helio Castroneves, leaving his worldwide fans in high anticipation for the next race.
Rahal Letterman Lanigan racing team welcomed Sato to pilot the team's #15 Dallara/Honda/Firestone car this 2012 race season, marking their return to fulltime participation in the IndyCar Series for the first time in four years. The team was confident Sato would help them win as he made significant improvements claiming two IndyCar pole positions his sophomore year in 2011.
In May, Sato captured the attention of millions of world-wide race fans as he demonstrated remarkable racing skill that almost led his team to victory at the Indianapolis 500, the world's most prestigious auto race. He sat in the 19th or 20th position at the beginning and eventually caught up and challenged Dario Franchitti on the very last lap of the 200-lap race. Sato's bold attempt to pass Franchitti caused his car to crash into the Turn One wall at over 300 kph! Fortunately Sato was physically unharmed. His competitive spirit created a thrilling end to the race that was watched by hundreds of millions of race fans in over 200 countries.
Sato showed his strongest performance since the Indianapolis 500 at the Edmonton Indy race held on July 22. He carried out the team's strategy beautifully throughout the race and pressured Helio Castroneves for the final 20 laps, finishing just 0.8367 seconds behind him. Sato celebrated his career-best finish in the Series as he stood at the podium besides Castroneves and Will Power.
Sato commented, "It is a fantastic result. I am very pleased for the team and very proud of our effort today. It wasn't an easy race. Tagliani made a great start and I was in fourth but then I overtook Ryan (Briscoe) in the hairpin and settled in third which was great. The first and second stint was all about saving fuel but driving as fast as possible. It was a very controlled race for us. I had a great battle with Dario. I could see he was pushing really hard and sliding. You could slide. I had an opportunity and overtook him which was great. The last stint was very exciting. We had a battle with (Alex) Tagliani and then Helio. I had to go as fast as I could; I pushed as much as I could and tried to get an opportunity to pass Helio but it was just not quite there yet. I knew he had a little bit longer sequence of the push to pass. I used it bit by bit, but also he's reacting all the time the last few laps and he used it every single straight. It was very difficult to catch him. Once we were very close, but it was not close enough to make a maneuver. After May we had some difficult races and came back very strong and made good progress and shall keep our head down and do the job for the next four races which will be very exciting. I'm very happy for second place today."
Driving under his personal motto, "No attack, no chance!" Takuma continues to improve his skills and brings competitive edge to the race tracks. It will be a matter of time until he stands in first place at the podium.
"This is the third year that Interush has sponsored Takuma and we are delighted with the great success he is having this year with the new team, said Marty Matthews,Interush President and CEO. "He nearly won the world's biggest race this year, the Indy 500, and to finish 2nd in the demanding Edmonton IndyCar street course reflects his tremendous skill developed as the F3 Champion and from his former F1 racing days. It is just a matter of time now for him to post his first IndyCar Win."
Matthews continued, "Takuma won the 1991 F3 race at Macau and it is a real shame that his Chinese race fans won't get to see him race in Qingdao this year as planned, because that IndyCar event was cancelled. Takuma is racing three times in Formula Nippon this fall in Japan, so that will be great for all his Interush Japanese fans. Interush supports Takuma Sato's goals to be recognized as one of Asia's greatest race car drivers. Professional racing is the combination of individual skill and determination to succeed, backed by tremendous teamwork, working in harmony with the most advanced technology... all the same business principles as in Interush!"
To learn more about Interush, Inc. visit http://www.Interush.com