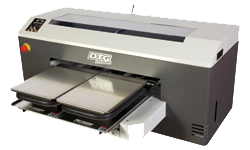 Tampa, FL (PRWEB) July 27, 2012
DTG M2 offers industry's widest array of platen options.
ColDesi, Inc. introduces the platen lineup for the new DTG M2 - . The DTG M2 offers options to print up to one oversize, two adult, two youth, two caps, four sleeves/pant legs or four infant/chest prints at one time. By mixing and matching the full array of platens available for the M2 – today's apparel decoration professionals can be ready to tackle virtually any job they face.
Versatility in platen sizes allows for more efficient usage of your direct to garment printer. By doubling up on the number of platens the end user can quickly unload and reload their DTG M2 and get back to making money much faster. Custom caps for the dual sleeve and dual infant platens even further increase versatility.
To learn more about the DTG M2 and or any of the other DTG Brand products visit http://www.dtgprintermachine.com or contact ColDesi at 877-793-3278; email sales(at)coldesi(dot)com.