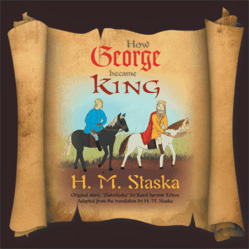 Australia (PRWEB) July 27, 2012
A king is considered to be the ruler of the state. He inherits the position by right of birth. He is part of a monarchy which may stretch back for many generations. He is ruler for life unless he abdicates, and is usually revered as the sovereign leader of his nation. But what if his most trusted servant becomes the king?
How George became King written by H.M. Staska tells a magical story about George, a trusted servant of an old king who is bound to become the king himself. His royal highness bought a dragon's egg from a woman peddler who claims that the egg has the power to understand all the creatures in the land, sea and air. He instructed George to cook the special egg but that under no circumstances was he or anyone else to taste it and instead should be served to him immediately.
George thought that his king's instructions were quite unusual considering that he always had his food tasted first before eating it himself so he tried a small piece of it. He quickly realized that he now has the ability to understand the animals around him. He tried to keep it a secret but his king realized that George disobeyed him. He thinks of a fitting punishment for George's disobedience. He ordered George to find the girl with a golden hair and bring her to the castle to become his majesty's queen. Will George find her and bring her to the castle? What obstacles will he have to face in his quest? What magical things he is bound to discover along the way? What surprises are about to happen?
A colorful, fascinating and entertaining story rolled into one, How George became King contains stunning visual illustration and verbal narratives children will love and adults will read for them again and again. It also inspires readers as it shares invaluable lessons on helping others, smart thinking, true love and so much more.
This book will be featured at the New York Library Association Book Exhibit in Saratoga Springs, N.Y. on November 7-10, 2012.
For more information on this book, interested parties can log on to http://www.Xlibris.com.au.
About the Author
H.M. Staska was born in Adelaide two years after her parents & brothers had arrived as migrants from Czechoslovakia. She was the first Australian in their family. As a child, her father always told many wonderful stories which she had always loved. But when she became a mother, she couldn't find these stories in English to tell her children and they couldn't speak Czech. As a young mom, she also didn't have the time to translate and publish stories. Now finally as a grandmother, she has the motivation as well as the time to translate and adapt these stories into English. This first book is dedicated to Jessica who because of her love of stories was the initial inspiration for her to begin translating and it gives her extreme joy to relate the stories to her, watching how deeply she listens and absorbs every word.
How George became King* by H.M. Staska
Publication Date: June 19, 2012
Picture Book; $34.99; 40 pages; 978-1-4771-1475-9
Picture Book Hardcover; $54.99; 40 pages; 978-1-4771-1476-6
eBook; $3.99; 978-1-4771-1477-3
To request a complimentary paperback review copy, contact the publisher at 1-800-618-969. To purchase copies of the book for resale, please fax Xlibris at (02) 8282-5055 or call 1-800-618-969.
Xlibris books can be purchased at Xlibris bookstore. For more information, contact Xlibris at 1-800-618-969 or on the web at http://www.Xlibris.com.au.