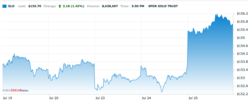 Gold fund investors stand to benefit if QE3 is deployed.
Chicago, IL (PRWEB) July 26, 2012
Gold ETF site, GoldETFs.biz, reports that gold funds surged on Wednesday after a host of data began to revive hopes of a liquidity response from the Federal Reserve. Gold funds had been drifting downward since the beginning of July but Wednesday's rally of almost 1.5% sent the funds back to early July highs.
A combination of developments in Europe and the U.S. were responsible for the surge according to the article, "Gold Funds Surge On Fed Hopes." The developments started Tuesday night with reports that members of the Federal Reserve were heavily debating another round of stimulus. Developments intensified Wednesday as poor economic data reported out of Germany and the United Kingdom caused elevated concern over the state of the global economy. Together these developments were thought to be bullish for another large scale liquidity injection to occur. This potential action would be beneficial to gold prices, notes GoldETFs.biz.
"Gold funds began 2012 on a strong note. This ended when QE3 was ruled out in late February," said Christian Magoon, Publisher of GoldETFs.biz. "Since then gold has underperformed. Continued data and developments however point to the increased likelihood of another liquidity injection in the U.S. and abroad. This should bode well for gold funds tracking gold prices."
A significant dose of liquidity would likely weaken the value of paper currency like the U.S. Dollar due to increased supply. As gold is primarily denominated in U.S. Dollars, gold would immediately be worth more dollars. Secondly, demand for a scarce asset like gold should rise, increasing the value of gold as well. These two dynamics would benefit holders of gold funds backed by physical gold holdings. The three largest products in the U.S. that are backed by gold bar holdings are the SPDR Gold ETF, the iShares Gold ETFt and the ETF Securities Swiss Gold ETF. Each fund's fees, prices and performance can be compared through the gold fund list on GoldETFs.biz.
In addition to gold ETF data and insights, GoldETFs.biz produces a free weekly Gold Fund Report analyzing gold markets and exchange traded gold funds. Subscribe here.
About GoldETFs.biz
GoldETFs.biz is a leading investor education site focused on gold funds and the markets they track. The site provides a complete gold ETF list, comparison tools and real time insight on gold through Twitter feeds. Besides the site, users can access GoldETFs.biz content on Facebook, YouTube and Google+. Follow @GoldETFsBiz on Twitter or become a fan on Facebook at /GoldETFsBiz.
About Christian Magoon
Christian Magoon is Publisher of GoldETFs.biz and CEO of ETF consulting and publishing firm Magoon Capital. Having launched over 40 ETFs to date, Magoon is an ETF insider and innovator. His vision for GoldETFs.biz is to create a convenient, social and educational source of ETF information on the exchange traded gold fund segment. IndiaETFs.com is a sister property. Christian has been named an "ETF Pioneer" and was recently featured as "One of Five ETF Experts To Follow On Twitter." Follow @ChristianMagoon for regular investment and ETF insight.