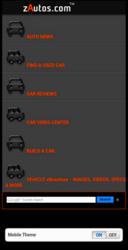 Irvine, CA (PRWEB) July 26, 2012
Designed with simplicity and usability in mind, the main screen of the mobile site allows users to select among a number of categories. By clicking on Auto News, viewers will be directed to a sample of the most up-to-date stories affecting the auto industry. Consumers can easily access automotive reviews of new vehicles by clicking on the Car Reviews tab. Organized in a linear and easy-to-read fashion, the mobile website has been optimized for quick and easy access to all the content consumers enjoy everyday on zAutos.com.
For even more in-depth car research, viewers can check out high-resolution car videos as well as detailed eBrochures that provide critical fuel economy and safety stats, a list of features, images, and pricing information for new vehicles. While sitting at a coffee shop or walking down the street, consumers can even find their next car with the used car portal, which helps visitors select one of the over one million new and used vehicles for sale on the site. Consumers on-the-go can also create their own custom vehicles anywhere, anytime with the Build You Car application.
Whether on a home computer, laptop, or iPad, consumers come to zAutos.com to kick start their automotive research experience and catch up on the latest developments in the automotive world. Now, consumers can get the full zAutos experience with nothing on hand but a smartphone. Check out zAutos.com on an iPhone, Android, or other mobile device. To get even more connected, follow zAutos on Facebook and Twitter.
Based in Irvine, Calif., automotive research site zAutos.com is a consumer's go-to guide for automotive information on the web. By providing innovative tools for consumers looking for new or used cars, zAutos is a fast-growing leader in the consumer car research field.