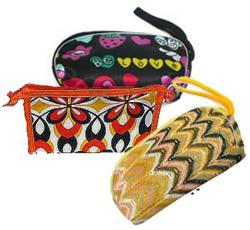 (PRWEB) July 26, 2012
Coin purses, cosmetic bags, men's and women's wallets - Bella Fashion has brand new arrivals in this diverse category of accessories, offering major style and excellent function. Whether customers are looking for tote bags to bring to the beach or small wallets for men or women, the website's "Bags" category has plenty to offer. New arrivals can serve many purposes. A cosmetic bag can double as a pencil case, for example, and many all-purpose bags are available in a wide range of designs and in a variety of materials.
Cosmetic bags are perfect picks for travel and toting makeup around, allowing for touch-ups throughout the day. The all-purpose green daisy bag, for example, measures 3.5 inches in height and 7.75 inches in length, easily fitting in a purse or backpack.
Contrasting patterns and colors that pop make excellent bold prints for shoppers with style. The newly added cosmetic bag combines both of these for a bright, fashionable look that has personality. This great new addition comes in orange, tan, fuchsia, pink, and brown. With measurements of 7 inches by 4.25 inches, this lovely piece is small enough to slip inside a larger bag and large enough to hold mascara, makeup pencils, eyeshadows, and more.
The stylish cosmetic bags don't only come in eye-catching prints and bright colors – they also feature durable materials. Sturdy and soft PVC material is featured on the butterfly bag designs for cosmetic bags as well as the tote bags, such as the purple flower tote bag, which is perfect for all-day summer outings. Chic and colorful circle patterned bags are very fun options with background colors of blue, pink, and purple. The hobo cosmetic bag boasts a creative, patchwork inspired design with a fabric outer shell and vinyl lining, practical for storing makeup.
On the note of practicality, the zipper features on these bags make them easy to close and open, and many designs feature handy loop wrist handles, the easiest and simplest method to transport a cosmetic bag from place to place. The clip-on bag epitomizes practicality – it can hold items such as an ID, camera, money, cell phone, or glasses in its two convenient pockets. Equipped with a shoulder strap as well as a clip to secure onto clothing, this innovative product is ideal for bicyclists and anyone else with hands-free needs. At a wholesale price of just $3, it's also a sensible choice budget-wise.
Particularly fashionable new arrivals among cosmetic bags reflect current popular trends. For instance, the new zigzag print bags in golden, fuchsia, green, and blue have both the color and interesting pattern to go perfectly with a fashionista's fun summer wardrobe, and is available at a wholesale price of just $1.50. Colorful, playful patterns come in black, tan, fuchsia, blue, purple, and tea rose, and feature the word 'love', flowers, and hearts that give off a carefree summer vibe, with vivid color as a major trend for accessories this summer. Shoppers can also save money on these beautiful bags with the latest 10% off coupon code, BH10. Bags of every shape and size are sure to be popular choices for customers who want to stay on top of trends.
About Bella Fashion Jewelry, Inc.
Bella Fashion Jewelry is a leading provider of fashion jewelry and fashion accessories to help customers stay up to date with the latest fashion trends. Bella Fashion Jewelry has been in the business of fashion jewelry and accessories for over 21 years. Bella Fashion Jewelry has been helping thousands of customers worldwide stay up to date with the attest fashions trends. Bella Fashion Jewelry is owned and operated out of Hayward, CA. To learn more about the fashion jewelry and accessories available from Bella Fashion Jewelry, please visit http://www.BellaFashionWholesale.com.