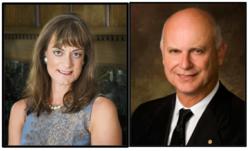 San Francisco, CA (PRWEB) July 31, 2012
The California STEM Learning Network (CSLNet) is pleased to announce the appointment of Dr. William (Bill) Scroggins and Ms. Nancy Pfund to its Board of Directors.
The new board members bring a broad spectrum of leadership and experience from the private and public sector. "We are honored to have Bill and Nancy join the CSLNet board as they add important expertise in science, education and cutting-edge STEM industries," said Warren Baker, Chair of CSLNet.
"Their leadership and vision will be important to CSLNet as we work to prepare students to meet our state's growing demand for STEM-trained workers," said Chris Roe, CEO of CSLNet.
Nancy Pfund is a Managing Partner of DBL Investors and currently sponsors or sits on the board of directors of a number of private companies, including Primus Power, SolarCity, Solaria, Ecologic, PowerGenix, and BrightSource Energy. Ms. Pfund also worked closely with exited portfolio companies Tesla Motors and Pandora.
Ms. Pfund has had a successful track record in education leadership. In 1988, President Bush appointed Ms. Pfund as a charter member of the National Advisory Council for Environmental Policy and Technology. In 1999, Ms. Pfund was appointed by President Clinton to serve on the Congressional Web-Based Education Commission. Ms. Pfund is a member of the board of directors of the California Clean Energy Fund (CalCEF), a not-for-profit fund mandated by the California PUC to invest in companies pursuing fossil-fuel alternatives, and is a founding officer and director of ABC2, a foundation aimed at accelerating a cure for brain cancer. She is a member of the Advisory Board of the UC Davis Center for Energy Efficiency and is a member of the Advisory Council of the Bill Lane Center for the American West at Stanford. For Ms. Pfund's full bio please click here.
New CSLNet Board Member, William (Bill) Scroggins, is President & CEO of Mt. San Antonio College and has both policy and management oversight responsibility for California's largest single-campus community college district. Dr. Scroggins comes to Mt. SAC with 37 years of experience in higher education, including 11 years as an administrator. Just prior to his Mt. SAC appointment, he served as Superintendent/President of College of the Sequoias in Visalia since 2006. One of his crowning achievements was the passage of three voter-approved local bond measures that resulted in the creation of college centers in Hanford and Tulare. Dr. Scroggins led College of the Sequoias in instituting and revitalizing important academic support functions, such as the Writing Center, the Math, Engineering and Science Achievement (MESA) Program, the First-Year Experience Learning Communities, as well as faculty and staff development.
Prior to College of the Sequoias, Dr. Scroggins served as Vice President of Instruction at Modesto Junior College for five years and as Interim President for two years. He also served as Dean of Science and Math at San Bernardino Valley College after a 26-year career as a chemistry professor at El Camino and Chabot colleges. For Dr. Scroggins full bio please click here.
Current CSLNet Board members include George Argyris, Partner at Farella Braun + Martel LLP; Bruce Alberts, UC-San Francisco and Editor-in-Chief of Science Magazine; Warren Baker, President Emeritus of California Polytechnic State University; Dennis Bartels, Executive Director of the Exploratorium, Stephen D. Bechtel, Jr. , Chairman Emeritus of Bechtel Corporation; Lauren Dachs, President of S.D. Bechtel, Jr. Foundation; Susan Hackwood, Executive Director at California Council on Science and Technology; Linda Katehi, Chancellor at the University of California – Davis; Bob Peck, Managing Director of the Fremont Group; Mohammad Qayoumi, President at San Jose State University; Chris Roe, CEO of the California STEM Learning Network; James Rosser, President at California State University, Los Angeles; and William Swanson, Chairman & CEO of Raytheon Company.
For full bios of all CSLNet Board Members please click here.