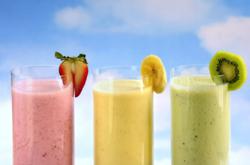 Harrisburg, PA (PRWEB) July 30, 2012
Nutritionists agree that breakfast is the most important meal of the day. Yet many harried families skip this important meal. In fact, it is estimated as many as 25 percent of the population skips breakfast on average. Bad idea!
Breakfast, as the word suggests, literally means 'breaking the fast'. As kids get ready to head back to school, it's important to note that after going 10-12 hours overnight without food, children's energy reserves are low and their bodies, and perhaps more importantly their brains, need fuel.
The National Frozen & Refrigerated Foods Association (NFRA) suggests that making your busy mornings healthier can be as easy as opening your freezer or refrigerator door. Frozen and refrigerated dairy foods are quick and easy, tasty and nutritious and can help jump-start the day in a very good way.
Here are some quick and easy 'cool fuel for school' breakfast ideas to get kids started on the nutrition fast track to a high-energy, health-smart day.

Blend nonfat yogurt, frozen berries, skim milk, juice and bananas for a delicious smoothie.
Fill toasted waffles with peanut butter and jam for a unique breakfast sandwich.
Create a yogurt parfait by layering your favorite yogurt, fruits and granola.
Make a tasty shredded cheese and veggie omelet and serve with frozen or refrigerated precooked turkey sausage.
For quick grab-and-go meals, stock the frig with: string cheese, a variety of yogurts, a selection of fruit juices, and frozen breakfast sandwiches that are ready to heat and eat in minutes.
For more tasty ideas, recipes and information on frozen and refrigerated foods, visit http://www.EasyHomeMeals.com, and or http://www.facebook.com/EasyHomeMeals.
NFRA is a non-profit trade association representing all segments of the frozen and refrigerated dairy foods industry in promoting the quality and convenience of frozen and refrigerated dairy foods to consumers across the country. Through national supermarket promotions like March National Frozen Food Month, June Dairy Month, June/July Ice Cream & Novelties and October Cool Food for Kids, as well as its EasyHomeMeals website and Facebook page, NFRA encourages family mealtime and healthy lifestyles and provides important consumer information about frozen and refrigerated dairy foods, including food safety, meal ideas, recipes and more.