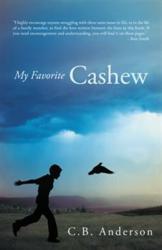 "My Favorite Cashew" reveals how, with love, even the tragedies of life can be used for good.
DELPHI, Ind. (PRWEB) July 27, 2012
Recently Jerry Sandusky was found guilty of 45 counts of child sexual abuse charges. According to the organization Darkness to Light, there are more than 39 million sexual abuse survivors in America. In her new book "My Favorite Cashew" (published by WestBow Press), C.B. Anderson breaks the silence and shares both the trials and the triumphs of a man who endured the physical, emotional and psychological repercussions of a debilitating childhood experiencing molestation, writing of her husband Tom Anderson, MD, sharing with readers a story of pain, but one of great love and laughter.
"This is my husband's story," Anderson explains simply about her new book. Tom was a well-respected family physician who cared for others while carrying his own burdens and running from his own demons.
"He was a brilliant, compassionate physician, who was loved by his patients and his community in spite of his personal struggles with the repercussions of childhood molestation and with adult onset of manic-depressive disorder."
Through Tom's powerful story, Anderson hopes readers will see that just because a person is deeply scarred by life, it does not limit God from using that person to show His love and compassion to others.
"My Favorite Cashew" reveals how, with love, even the tragedies of life can be used for good.
About the Author
C.B. Anderson has a degree in English from the University of Iowa and a Master of Arts degree in English from Ball State University. For 20 years she taught classes in a home-school cooperative. She resides in Carroll County, Ind.
WestBow Press is a strategic self-publishing alliance of Thomas Nelson, Inc., the world's largest Christian publisher, and Author Solutions, Inc. (ASI) — the world leader in the popular self-publishing industry segment. Through this partnership, authors benefit from the rich publishing heritage of Thomas Nelson and the speed-to-market advantages of the ASI self-publishing model. Titles published through WestBow Press are evaluated for sales potential and considered for publication under the Thomas Nelson imprint. Thomas Nelson, Inc. continues to "inspire the world" with distribution of products in more than 100 countries worldwide. For more information, or to start publishing today, visit http://www.westbowpress.com or call (866)-928-1240. Follow us @westbowpress on Twitter for the latest news.