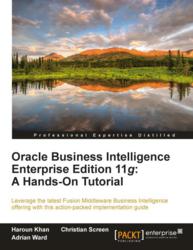 (PRWEB) July 26, 2012
Packt is pleased to announce the publication of Oracle Business Intelligence Enterprise Edition 11g: A Hands-On Tutorial, a new Oracle hands on tutorial, designed to help BI developers, technical administrators and analysts successfully get practical knowledge of OBIEE 11g. This handbook is available now in print, eBook, Kindle and select library formats. The print book comes in at over 620 pages and is competitively priced at $53.99, whilst the e-book and Kindle versions are available for $30.59.
About the Authors:
Christian Screen is a Business Intelligence evangelist and has immense experience of over 15 years in Data Warehousing Enterprise, Business Intelligence, low-level programming and e-commerce.
Haroun Khan is involved with OBIEE and subsequently is a part of the Oracle family. He is one of Europe's leading OBIEE consultants.
Adrian Ward formed UK's first independent consultancy that focuses purely on OBIEE (nee Siebel Analytics) and Oracle BI Applications.
Oracle Business Intelligence Enterprise, is a set of business intelligence tools that consists of former siebel systems business intelligence and hyperion solutions business intelligence offerings. All enterprise data sources, metrics, calculations, definitions, and hierarchies are managed in a Common Enterprise Information Model, providing users with accurate and consistent insight, regardless of where the information is consumed.
Oracle Business Intelligence Enterprise Edition 11g: A Hands-On Tutorial takes a deep dive on various BI upgrading techniques such as, discovering the valuable best practices for designing a reporting database and running a full sample upgrade from a 10g repository using the upgrade assistants. The book highlights topics such as demonstrating agent options affecting report deliveries, implementing changes to standard colors, graphics and messages by going further with dashboard knowledge.
Furthermore, a wide variety of well explained practice coalface tutorial filled with real world case studies will help consultants and end users implement the suite's powerful analytic capabilities. Some of the interesting features such as, speeding up the OBIEE system with scale out and caching, developing great management tools, learning to publish reports with bursting, scheduling and making the knowledge stick by the end of each chapter with a self-review and further learning resources are also explained in a well concised manner .
Some of the chapters emphasized in this book are:
Chapter 1: Understanding the Oracle BI 11g Architecture
Chapter 2: Installing the Metadata Repository
Chapter 3: Installing on Windows Server 2008
Chapter 4: Installation Options
Chapter 5: Understanding the Systems Management Tools
Chapter 6: Upgrading the RPD and Web Catalog to 11g
Chapter 7: Reporting Databases
Chapter 8: Developing a BI Repository
Chapter 9: Features of the Presentation Catalog
Chapter 10: Creating Dashboards and Analysis
Chapter 11: Agents and the Action Framework
Chapter 12: Developing Reports Using BI Publisher
Chapter 13: Customizing the Style of Dashboards
Chapter 14: Improving the Performance
Chapter 15: Using the BI Admin Change Management Utilities
Chapter 16: Usage Tracking
Chapter 17: Oracle Essbase and OLAP Integration
Style/Approach
Oracle Business Intelligence Enterprise Edition 11g: A Hands-On tutorial is a practical guide for beginner to intermediate readers who will benefit from plenty of emphasis on the introduction of new features of the suite and go further with step by step instructions from the experts.
A few of the recent Oracle titles that Packt has released are:
1) Oracle Enterprise Manager Cloud Control 12c: Managing Data Center Chaos (due)
2) Oracle E-Business Suite R12 Supply Chain Management (published)
3) Oracle Service Bus 11g Development Cookbook (published)
All Oracle books are Published by Packt Enterprise. Packt Enterprise is a publishing division of Packt Publishing designed to serve the information needs of IT Professionals in the Enterprise space. Packt Enterprise also publishes on Microsoft, IBM, Oracle, Citrix, Java, Amazon, Google and SAP technologies.