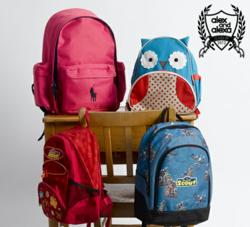 Our vision at Alexandalexa.com is to bring World Class children's brands to our customers in an exciting and convenient shopping environment.
London, United Kingdom (PRWEB) July 27, 2012
Visit AlexandAlexa's Back to School shop for school bags, lunchboxes, stationary, school coats and shoes. Shop favourite brands including Lego accessories, Scout, Goodbyn and Start-rite. Watch the 'First Day Back' mini-movie for a chance to win a Micro Scooter and a £500 voucher.
Before even leaving the classroom for the summer holidays, kids will be dreaming of shiny school shoes, freshly sharpened new pencils and the coolest backpack for the new term in September.
Now is the time to stock up on back to school equipment and fashion essentials before the big rush.
At premium shopping destination AlexandAlexa.com, the team have scoured the globe to bring parents and kids the top trends and fashionable back to school items that really make the grade, meaning little ones are preparing and raring to go for the new school year.
For the best and most cutting-edge brands and products, look no further. Parents can shop coats, shoes and accessories at the click of a mouse, but also stock up on school stationary, lunchboxes, backpacks and learning essentials for star pupils!
AlexandAlexa stocks favourite back to school brands including the innovative new range of lunchboxes and storage boxes from Lego and back to school favourites such as Micro Scooter, Scout backpacks and Goodbyn lunchboxes.
Classic back to school clothing that girls and boys will love to wear
Get kids excited about the new term with clothes and accessories which allow them to express their own personalities. Brands such as Start-Rite, Lelli Kelly and Geox provide a fun take on the traditional school shoe. Children that don't wear a uniform can choose from an extensive urban collection of school shoes from Puma, Nike and Lacoste. Look to brands such as Barbour, Mayoral and Burberry kids for smart, contemporary versions of back to school coats.
After school and learning essentials
AlexandAlexa.com introduces a wide range of after-school learning and nurturing products, with books, game and puzzles from some great international brands such as Melissa & Doug, Brainstorm Eureka and House of Marbles to make sure children get tops marks!
A chance to win a kids' Micro Scooter and a £500 voucher to spend in the Back To School shop
To celebrate the launch of the back to school shop, AlexandAlexa has created a 'First Day Back' mini-movie, featuring all the best products to get children stuck into the new term. To view the video click here (http://www.alexandalexa.com/catalogue.html).
AlexandAlexa facebook fans will also have the the chance to win a Micro Scooter and £500 voucher! Get two friends to enter the competition to double the chance of winning.