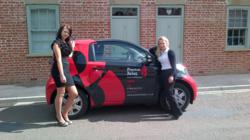 "We're committed to giving young people the opportunity to learn the business, gaining both experience and qualifications."
York, North Yorkshire (PRWEB UK) 27 July 2012
Preston Baker, the fastest-growing independent estate agency in North and West Yorkshire, has launched an apprenticeship programme in response to record youth unemployment in the region and significant increases in the number of 18-24 year olds claiming Job Seekers Allowance. "One of our strengths as an expanding business is our management development scheme to train and promote from within," said managing director Ian Preston. "We're committed to giving young people the opportunity to learn the business, gaining both experience and qualifications."
The apprenticeships run for between 12 to 18 months, at the end of which the apprentices will have gained an NVQ Level 3 in Business Administration, valuable experience and the possibility of a permanent position within the Yorkshire estate and letting agency. One apprentice has been appointed to Preston Baker's Selby branch in the sales department, while the other is working in the Lettings Department's head office in York.
Becky Williams (21) is working in the Selby branch as an apprentice administrator. Becky returned to college part-time after the birth of her son but really wanted to work full-time. "The opportunity to work and learn in an office environment, not in college, is what I really wanted," she said. "I'm really enjoying it and Preston Baker give me allocated time during office hours to do my college work."
Jessica Adcock (17) is working with Lettings Manager Cathy Evans at Preston Baker's York branch. Jessica finished her GCSEs in June 2012, having already decided that A-levels and college weren't for her: "I think you learn better by doing and the people here are so nice and supportive. I'm learning lots and would like to become a negotiator one day." The benefits of the scheme are mutual, as both the Cathy and the Selby Branch Manager Sarah-Jane Taylor are very pleased with the contribution the two apprentices make to their respective operations.
"We see this as a long-term association," explained Ian Preston. "We're not training for a short period, we're training young people for permanent roles in the company once they have completed their apprenticeship. We take pride in promoting from within, and are particularly proud of our new branch manager in our North Leeds office, Chris Holyroyd. Chris joined us when he was 18 and has made a great contribution to our company and now has Preston Baker in his blood."
The estate agency plans to expand its apprenticeship scheme to its two branches in Leeds in Oakwood and Headingley.