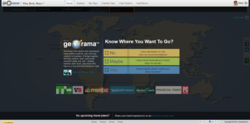 Chicago, IL (PRWEB) July 26, 2012
Chicago-based Georama announced the public beta launch of the world's only map-based online travel platform which lets travelers bypass the hassle of juggling multiple websites to plan, book, and share their trips.
The typical online travel planner visits 11 to 28 different websites to research and book their trips. Instead, Georama offers travelers a one-stop solution which brings together some of the best content, fares, and social networks in one place. Georama is based entirely on an innovative interactive map providing a unique visual experience unlike any other travel site. The Georama map is a new and easy way for travelers to explore destinations and visualize their trips.
Georama offers an immersive experience that helps travelers from start to finish. For times when the traveler wants to get away but has no idea where they want to go, Georama will provide destination suggestions based on interests and other factors, such as time of year. If they have a few places in mind, Georama will help them decide by offering a deeper view into each destination. And for those who know exactly where they want to go, Georama lets them search and book fares. Whatever their needs, travelers can create and manage itineraries on Georama with the widest range of options from attractions, activities, restaurants, and nightlife to weather, news, deals, and more. Travelers may also explore hotels, hostels, flights, and car rentals and book them without having to leave the site.
Georama integrates cutting-edge social features that allow travelers to view and communicate with friends who live in or have been to cities they plan to visit. Friends can provide recommendations that travelers can choose to accept into their itineraries. What's more, when travelers return from their trips they can share their complete travel experiences by creating their own interactive travel map. Apart from showing where travelers have been and wish to go, the map also connects to their photos, videos, reviews, notes, and more - truly bringing their trips to life. The travel map can be created automatically by connecting to multiple sources like Facebook, Foursquare, Instagram, YouTube, or one can take a more curated approach.
"We are really excited that Georama is now out of private beta – the team has spent over a year building a robust platform and crafting an experience that is visual and fun", said Nihal Advani, Founder & CEO of Georama. Georama is the only complete platform for travelers, combining the best content for planning, the convenience of booking great fares from top providers, and advanced social tools all in one place. All of this is brought together on top of a one-of-a-kind interactive map. Check it out at http://www.georama.com.
About Georama
Georama is a Chicago-based startup that offers the world's first map-based travel platform. It helps travelers plan, book, and share their trips on a one-of-a-kind interactive map – offering an unmatched experience that is visual, immersive, and fun. Georama is the only one-stop solution for travelers, bringing together the best content, fares, and social networks under one roof. Georama's mission is to provide savvy travelers the widest range of tools before, during, and after their trips, and it strives to make the entire travel process convenient and enjoyable.