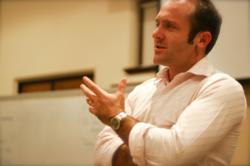 Pornography addiction is destroying thousands of lives.
(PRWEB) July 26, 2012
A new website aims to help sufferers of pornography addiction deal with their problems through a series of online masterclasses and e-books.
The new site called stopusingpornography.com has already received thousands of hits from around the world in only it's first 48 hours of operation.
Developed by well known speaker and author Jonathan Doyle the new site is based on years of research and the experience of having delivered live seminars to over hundreds of thousands of young men on the impact of pornography and simple strategies for creating change.
Doyle states, "For years the debate around pornography has often been positioned as a purely moral one. That is a crucial component but what we are rapidly coming to understand is that pornography addiction is also a public health issue. We have a large and growing body of evidence that it has clear and discernible affects upon brain structure and neurochemistry. There is also a body of research that explores the interplay of these neural changes with human psychology. In my experience, pornography can fast become a huge problem for many men, and it's time that we started offering them the tools to address their situation in positive ways."
The site also delivers a range of audio content including live recordings of key conference events and comprehensive e-books providing in-depth exploration of how pornography functions.