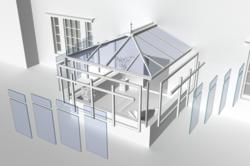 The new Lighter Line frame is both stronger and slimmer than before and lets more light into the conservatory
Coventry West Midlands (PRWEB UK) 31 July 2012
U-fit, the Coventry based manufacturer of DIY conservatories since 1996 is pleased to announce their 'Lighter Line' conservatory. The Company has invested in new machinery to remove the bulky frame couplers used on most DIY conservatories.
John Armstrong MD said 'We are always looking for new ways to improve our conservatories and this investment has allowed us to give our customers a much slimmer conservatory, it is much stronger too".
The traditional method of making a conservatory side frame meant the joining together of multiple frames with screws or bulky couplers. The more expensive single frame construction is normally employed by high end conservatory retailers.
The £50,000 investment in a multiple cruciform welder has allowed the company to reduce the width between each frame by 30%. The result is a slim and strong single frame up to 4000mm wide, previously that distance would have been occupied by 5 or 6 individual frames joined together.
There is a time saving element for the DIY installer with the 'lighter line' frame, being 5 or 6 six times quicker to erect than previously as there are less component parts.
'That's a great benefit for our customers as it speeds up installation and makes it easier as well', adds John.
The X shaped cruciform welder can fusion weld four sections of UPVC together and gives a slim neat appearance. The single frame has excellent dimensional tolerance in the height.
The heights of multiple frames can each vary by up to +/- 5mm, which can create difficulties when connecting to the roof. This new method employed by U-fit eliminates this potential problem.
U-fit has been committed to investing in improving it's DIY conservatory product range, since their inception in 1996.With there dedicated DIY conservatory website
source u-fit,Boston place,Coventry