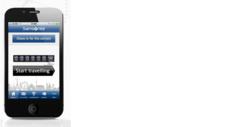 new features and opportunities to win a Samsonite prize every two weeks.
Kent (PRWEB UK) 28 July 2012
This Samsonite application is a one stop for travellers giving information where they've been, update friends and family on their location and even avoid excess baggage charges.
The app is free to download and is unique to the market and the main idea of the app is to track how many miles the traveller has covered over two weeks and the person who travels the most over those two weeks wins one of the latest Samsonite products. These prizes would be changed every two weeks.
Paul Steadman, Managing Director of Luggage Superstore favors this app.: "This app is quite exciting as it allows interaction with your social media friends while tracking your rank on the several leaderboards. It is a brilliant idea by Samsonite." The app has been updated to synchronize with social media sites so that you can share your miles and experience on your social media sites immediately. Of course, an amazing feature of the app is to keep the traveller updated on baggage restrictions on airlines so as to avoid getting caught out at check-in.
Other bonus features are reminders to enter your start time of your journey and the reminder for you to stop tracking your miles travelled.
Track Your Miles and Enter to Win a Samsonite Product with Just One Click.
Luggagesuperstore established site is in West Kingsdown, Kent. Their aim is providing competitive prices of the highest quality luggage and top calibre Customer Service for online luggage shopping.
Trina Chee-a-kwai
Luggage Superstore
01474 854666
Email information