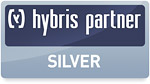 The hybris partnership is a strategic extension of Crown's Enterprise eCommerce offering.
Dayton, Ohio (PRWEB) July 26, 2012
Crown, a full service eBusiness company, announces that it has partnered with hybris, a driven multi-channel eCommerce software vendor. The hybris partnership is a strategic extension of Crown's Enterprise eCommerce offering.
Currently, Crown and hybris are working with Purchasing Power, a company based in Atlanta that provides employees with the ability to purchase computers, appliances, and more through payroll deduction. Purchasing Power is an Inc. 500|5000 company moving to a full hybris implementation and looks to Crown and hybris to further its growth.
"We're honored to be a silver partner with hybris". It offers a robust eCommerce platform and has a proven track record for order protocol and customer service. We look forward to working on future projects together." said Rob Miller, eBusiness Director at Crown
hybris launched to the U.S. market in August 2009. The company is headquartered in Munich, Germany and has steadily moved throughout the North American marketplace.
Over the past few years, Crown has steadily added partnerships within its eCommerce Group, achieving Gold Partner status with Magento and ExactTarget earlier this year.
About hybris
hybris is a leading vendor of next generation end-to-end multichannel commerce software based on a single platform including managed and hosting services. Its clear vision about the need for consistency, coordination and personalization of information across all channels and throughout all phases of the customer lifecycle has resulted in the development of an integrated, agile solution enabling businesses to communicate and sell across all channels – online and offline – in a consistent and effective way. hybris has 14 offices around the world located in the economic capitals of North/South America, Europe and Asia and supports over 380 global customers. Customers are brands from retail and manufacturing industries, including: Bobcat, Clarks, Coca Cola Beverages, Conrad, Grundfos, Hornbach, Iomega, Kaiser+Kraft, Levi´s, Lufthansa, Migros, Nespresso, Nikon, P&G, Rexel, Timberland and Toys´R´Us.
About Crown
Crown breaks new ground in eBusiness solutions. Thanks to its integrated offering of enterprise-wide technology, strategy, and implementation coupled with public-facing digital marketing, Crown's solutions increase business profitability and improve customer experience for the mid-market and large company clients it serves. The company's unique approach creates streamlined dissemination of information across and among multiple business channels, process and personnel for improved efficiency and effectiveness. Crown's award-winning work has resulted in more efficient operations, increased profitability and successful marketing programs for clients in diverse industries, including General Motors, the U.S. Army, World Bank, and others.
http://www.crownpartners.com
###