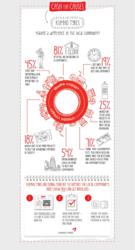 Sports broadcaster Annabel Croft: "I believe that by doing your bit - no matter how big or small - we can all work together to help our own communities."
(PRWEB UK) 31 July 2012
No quick fix for broken Britain - survey reveals communities' concerns about anti-social behaviour, crime and jobs.
 
One in four Britons believe that not enough is being done to stop yobs who blight their communities, a survey reveals.
Measures to tackle anti-social behaviour came top when people were asked what kind of community action would improve their area, with a further 18% calling for more protection for the vulnerable.
The poll, carried out in June - also revealed that rising crime is the second biggest issue in communities behind jobs.
Almost one year on from the riots that swept across the UK, one in five admitted they are worried about crime in their area.
More than a quarter (27%) said unemployment was a concern, with a further 17% citing cuts to local services.
Almost three-quarters (70%) of the 1,703 questioned believed that the government should focus more on community issues, and less on banking and budgetary concerns.
More than half said they had no involvement with their local community - yet there are signs that people up and down the country are keen to do more to help their fellow citizens and one in five already do.
Picking up on this trend is Kumho Tyres, one of the world's largest tyre manufacturers, with its recently launched 'Cash for Causes' campaign. This will see the company give away more than £100,000 to deserving local charities, groups and projects, through its ECSTA Performance Centre (EPC) independent retail partners.
Lending her charity experience to the campaign is sports broadcaster and ex-tennis pro Annabel Croft, who commented: "I believe that by doing your bit - no matter how big or small - we can all work together to help our own communities. Kumho's Cash for Causes campaign should encourage people to support their local good causes."
 
Over 200 of Kumho Tyres' EPC retailers across the country have signed up to take part in the Cash for Causes campaign, each selecting two local community projects they feel deserve a donation. They then go head to head in a public vote to see which one the community feels should receive the larger share. To find out more and vote visit kumhocauses.com
Kumho Tyres' UK marketing director, John Thrupp said: "Helping communities and supporting worthwhile causes is part of Kumho's DNA. Korean companies are very aware of their social responsibilities and work hard to help those in need. Our Cash for Causes campaign is enabling us to support many worthy community projects and start to make a tangible, grass roots impact on the lives of many people and deserving community causes."