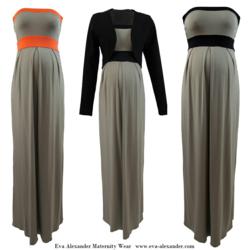 "Our clients enjoy the fact that we approach maternity from a very unique perspective."
(PRWEB) July 27, 2012
Playtime Paris is the premier international event for maternity wear exclusive to the top labels in the industry. While there are a handful of designer maternity wear brands that women around the world vie for during their pregnancies, Eva Alexander has quickly set itself apart from the rest by creating stunning maternity wear in trend setting designs and extraordinary quality.
Eva Alexander's S/S 2013 Collection of designer maternity wear is no exception. Women have never looked so sexy and yet eternally classic during their pregnancies. The collection features a series of eye catching summer maternity dresses, fabulously sexy reversible maternity swimwear, must have knitwear made in lightweight yarns that add a bit of ethereal shimmer to any outfit, summer essentials in a beautiful palette of colours, and of course, a new range of distinctive suiting and statement tailored pieces created in gorgeous lightweight fabrics to make every woman look and feel chic & stylish during their maternity.
Each piece in the collection is striking in its simplicity. The new swimwear range features a variety of interchangeable pieces in combinations of bright and neutral colors that can be mixed and matched to create the perfect look. One of the more extensive maternity swimwear ranges to hit the market, the reversible maternity bikini's were especially well received as the stylishly sexy designs are ideal for any woman looking for multiple swimwear options on a budget.
The new maternity suits were also a particular favourite because not only do they look and feel expensive but each one has its own subtle personality created with specially designed buttons out of unique materials. "I love the little details that make a classic piece modern and edgy, like the leopard print buttons on one of our maternity suits. Our clients enjoy the fact that we approach maternity from a very unique perspective making few concessions for the fact that we are designing maternity wear. I even have one of the leopard button suits in my closet and it fits as beautifully as my Dolce & Gabbana. I don't know how many people can say that about maternity wear," says Jane MacDougall, the designer behind Eva Alexander.
Not every woman is looking for the perfect suit or a stylishly sexy bikini during their maternity. Most women just want well designed essential pieces in quality fabrics, and this is what Eva Alexander does best. The summer maternity skirts look and feel designer. They can be worn before, during and after maternity, and best of all, they are very affordable. There is a maternity dress to suit every mood and occasion. The colourful range of sleeveless chiffon shirts are stunning and versatile. The knitwear with the delicate shimmer in midnight blue and black is enviable from any perspective. But this is only the beginning, the collection as a whole is inspiring, innovative and bold.
Eva Alexander launched it's online maternity wear shop at http://www.eva-alexander.com in January of 2011, and has quickly become one of the trendsetters in maternity wear fashion. The creation of stylish maternity designs that combine figure flattering silhouettes, modern lines and smart tailoring with luxury fabrics, distinctive detail and quality workmanship has been received with rave reviews. With a clientele that ranges from professionals and executives to style savvy fashionistas and a celebrity following that includes the likes of Sienna Miller, Eva Alexander has been embraced internationally and continues to grow from strength to strength. With three iconic collections: Essentials, The Office and Twilight Beauty, a woman is always fashionably dressed for any occasion during her pregnancy.