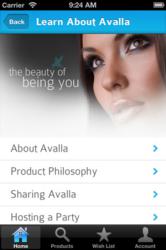 The Avalla iPhone app fits in beautifully with our philosophy of offering our Consultants maximum flexibility to work within their desired lifestyles and schedules.
-- (Pamela C. Dean, CEO of Avalla)
Houston, Texas and Calgary, Alberta (PRWEB) July 27, 2012
Avalla, LLC announces that it has released an iPhone mobile app that will give its independent consultants instant, portable access to sharing product information, as well as access to on-the-go contact management tools.
"As society goes mobile, our company is staying current on this trend so that our Consultants can work smarter, be more efficient and have more fun while interacting with their customers," says Avalla founder and CEO Pamela C. Dean. "The Avalla mobile app will enable our Consultants to take advantage of available moments to do business as they go about their daily lives. It fits in beautifully with our philosophy of offering our Consultants maximum flexibility to work within their desired lifestyles and schedules."
Avalla is a Houston, Texas-based direct selling company that offers botanically-based skincare, anti-aging, beauty and wellness products, along with an entrepreneurial opportunity that includes unlimited income potential, flexibility and the freedom to have one's own business without high start-up or overhead costs.
Features of the industry-leading app include the following:

Consultants can quickly and easily browse products, view product photos and learn about product details such as ingredients, benefits, price and how to use the products.
The app's Corporate Content Management System allows the Avalla Consultants to work from multiple screens of content; for example, sharing information about the company, current product promotions, host rewards program, and the company's business opportunity.
Avalla Consultants can view their contacts, tap on an address to view it in Maps, and tap on a contact's phone number to easily call them. They can also view their scheduled parties, tap a party to view in Maps and get directions.
Avalla plans to issue further releases of the mobile app to continually add more functionality, including the ability to place orders, enroll new Consultants and access training.
About Avalla:
Avalla offers an extraordinary line of botanically inspired beauty and wellness products that are safe, naturally sourced and offer excellent value to customers. By combining the purest ingredients that the earth has to offer, along with state-of-the-art product formulations perfected by science, Avalla combines the best-of-the-best products, people and technology to attract the next generation of leaders, consultants and customers. The company prides itself on creating a heart-based family of successful entrepreneurs who are dedicated to assisting others in achieving a financially secure lifestyle and empowering them to believe in themselves. Avalla is a member of the Direct Selling Association, and adheres to and supports their code of ethics. To learn more, visit http://www.avalla.com.
Avalla president and founder Pam Dean is available for media interviews. To schedule an interview, contact Gina Mazza at 724.316.4751 or email ginamazza(at)me(dot)com.
E-photos are also available.
— 30 —