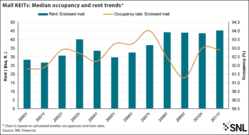 (PRWEB) July 27, 2012
Fundamentals in the U.S. retail REIT sector, which has seen strong returns year-to-date, have benefited from incremental economic improvements in 2012.
At the end of the second quarter, the total return for the SNL U.S. Retail REIT index stood at roughly 22% year-to-date, up from 15% at the end up the first quarter and outperforming the broader benchmark of the SNL U.S. Equity REIT index, which posted a year-to-date total return of roughly 15% at the end of the second quarter.
The positive result comes amid a marginally more positive economic picture. The U.S. unemployment rate is expected to hover around 8.0% in 2012, a decrease of 0.95 percentage point from 8.95% in 2011. Moreover, median household income for 2016 is projected at $57,536, compared to $50,227 in 2011.
CBL & Associates Properties Inc. CEO Stephen Lebovitz, speaking during the company's first-quarter earnings conference call, said that a broader economic recovery in its markets had encouraged retailers to consider expanding into middle markets, as opposed to focusing only on high-productivity malls. This change had led to discussions between the REIT and retailers that, according to Lebovitz, were not happening a year ago.
More generally, retail REIT executives struck a "generally positive" tone during June's NAREIT REITWeek conference, according to analysts at Stifel Nicolaus. In a June 18 report, the analysts noted that mall and shopping center REIT fundamentals are continuing "to move in the right direction" with increases in occupancy, positive leasing spreads and inexpensive debt that is "readily available" to these companies.
"The regular 'known unknowns' (i.e., Europe, domestic slowdown, etc.) are still a risk, but aren't directly impacting day to day business," the analysts said.
However, the retail REIT space continues to face potential threats. Click here to continue reading