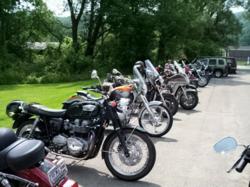 Hammondsport, NY (PRWEB) July 30, 2012
The Curtiss Classic Motorcycle Day will be held on Saturday, August 4 from 9 am to 5 pm at the Glenn H. Curtiss Museum, 8419 State Rt. 54 in Hammondsport. This outdoor event is a one-day get together for motorcyclists and anyone interested in classic and vintage motorcycles. Visitors will see running antique engines and machinery, the Museum's popular wind wagon, and a wide variety of bikes, both classic and new. Food will be available for purchase. Weather permitting, a tintype photographer will be on site to take tintype photos of visitors and their motorcycles for purchase. Admission for this outdoor event is free.
For those who wish to enter the museum and see a priceless collection of antique aircraft, motorcycles, cars and boats, a special $5 admission rate will be offered to anyone arriving on a motorcycle. New to the Museum's motorcycle collection this year are a 1938 BMW R35 single and a 1942 Harley Davidson Model XA Boxer style, of which only 1,000 were ever built. Also of interest is an exact reproduction of the V8-powered bike that Curtiss rode to a 1907 world's record of 136.4 MPH. For 4 years, Curtiss was "The Fastest Man on Earth." Visitors can also enjoy the museum's collections of vintage cars and airplanes, as well as interesting exhibits on the Civil War and local history. Routes for a number of scenic rides around Keuka Lake and the surrounding Finger Lakes Region will be available to visitors.
About the museum
The Glenn H. Curtiss Museum, which is located in Hammondsport, NY, celebrates the life and accomplishments of Glenn Curtiss. The museum is home to a priceless collection relating to early aviation, bicycle and motorcycle transportation and local history. Hammondsport was recently named "Coolest Small Town of the Year" by Budget Travel magazine.
For more information, visit the museum website at http://www.glennhcurtissmuseum.org.
About Glenn Curtiss
Glenn Curtiss was among the earliest American motorcycle manufacturers. He went into production in 1902, a year earlier than Harley-Davidson. He held numerous motorcycle speed records in the years prior to 1910 and the World Record he established in 1907 stood until 1930. He built a successful motorcycle manufacturing business and sold bikes nationwide until he decided in 1912 to manufacture aircraft full time.
Curtiss is better known for his pioneering work in aviation. He is considered to be the founder of The American aircraft industry and the father of US Naval aviation.