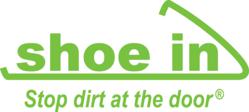 Merrill, WI (PRWEB) July 26, 2012
In just a few short weeks, gardeners everywhere will be busy harvesting their summer bounty, but with the inevitable ring of the phone or quick water break comes tracking in dirt and mud, or taking the time to change out of your shoes. A simple solution to keeping your clean floors clean, Shoe In's lightweight EVA overshoes are designed to effortlessly slip on over your shoes to be worn indoors or out. The gardener's best friend, Shoe In overshoes are a necessity for those constantly traveling back and forth between the yard and home.
The beauty of Shoe In is in the eye of the gardener: These overshoes can either be worn over shoes when going outside to keep them clean, or kept in your mudroom or entryway to slip over dirty shoes when going back inside. Shoe In overshoes won't mark interior floor's finishes, hose off for quick and easy cleaning, and come in a number of different colors and styles, including an Open and Closed Toe. The patented hands-free design means no bending over to put them on or take them off, and gripper fingers inside the Shoe In hold them snugly in place, with no slipping or sliding, making them safe and easy to walk in.
Shoe In overshoes save both time and money by eliminating the cleanup associated with quick trips between the home and yard or garden. There is no distinction between the left and right foot making them even simpler to use, come in just four sizes (Small, Medium, Large, Extra Large) and they fit over most shoes and boots up to size 16. With Shoe In, you can leave the final days of warm weather to be enjoyed outside in the garden, and not inside cleaning your floors.
Shoe In overshoes are available from a number of national online retailers, including Gardener's Supply, Grainger and Cabela's, and various retailers in a wide variety of local markets. For more information about Shoe In, please visit http://www.weinbrennerusa.com.