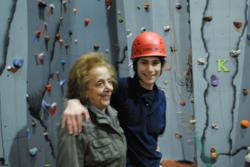 (PRWEB) July 28, 2012
The Gerber Foundation has awarded grant funds to Eagle Village to be used specifically for families from Muskegon, Lake, Oceana and Newaygo counties.
The intervention services available with these funds will provide the opportunity for families from these four counties to secure help at Eagle Village through B.A.S.E. Camp and Project Survive which are camp and wilderness experiences for pre-teens and teens who may not be successful in a traditional summer camp program. These camps are designed for at-risk youth and will challenge, excite and encourage young people that push back against authority, struggle behaviorally or are challenged to control their anger.
Catherine Obits from the Gerber Foundation said, "Eagle Village programs have proven their worth in impacting youth and families at risk of entering the legal system. The preventive goals of their programs- acting before legal action becomes necessary, helps families to regain traction, keeps youth in school and teaches them ways to become a positive force in their community. In addition, this saves money in the long run by reducing the need for legal and social service supports later on. The Gerber Foundation is pleased to be associated with these programs."
Eagle Village provides Intervention Services, Residential Treatment, Foster Care and Adoption services for all counties in Michigan. If you know of a family in crisis that may benefit from these programs contact Eagle Village at 231-832-2234.