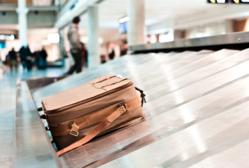 East Hartford, CT (PRWEB) July 30, 2012
With the reported number of travel related theft incidents increasing in 2012, it is extremely important to stay aware of how to protect yourself from one of the most common scams that travelers face while exploring a new country. It has been estimated that about 15,000 travelers report missing items from their luggage every year. While this number is an accurate estimate of travelers who actually report their missing items, this does not account for all of the cases that are not reported or are not discovered until much later than the actual trip date. Luggage with high value content continues to be targeted by airline workers themselves, at carousels in baggage claim areas, as well as scam artists plotting along the way. It is often impossible to find out who is responsible for theft and the issue has been ranked as one of the lowest concerns in comparison with other airport security problems.
Travel Insured International®, a leading privately-owned travel insurance company provides some helpful tips to follow both before and during your next planned trip to help ensure you won't be a victim.

Before leaving for your destination, research to find information on high crime spots and general safety of the area.
Take pictures of each personal belonging you pack, either inside or next to your luggage. Make digital copies of each image to easily be able to share the documentation of your possessions.
Be sure that your social security number is not in your wallet.
Keep an eye on your bags at all times. Watch them through all security scanners and wait to make sure they are not left at the baggage check point.
Go directly to the baggage claim area after you land to ensure there will be a shorter time that your baggage is left unattended.
When you arrive to your destination, keep valuables in a safe or hidden in your room.
Don't draw attention to yourself and make sure that all expensive items you might have such as cell phones, laptops, mp3 players, etc. are hidden and secure.
If you do experience theft while traveling, homeowner's insurance may not cover costs for baggage loss, and normally does not reimburse you for items such as new clothing that you must purchase in the case of baggage delay. Travel Insured covers these gaps and urges travelers to invest in a policy which includes baggage and personal effects.
Travel Insurance for Baggage & Personal Effects:
Travel Insured International® includes Baggage & Personal Effects coverage in all of its Worldwide Trip Protector line of plans, as well as its Airline Ticket Protector plan. The maximum limits of coverage per insured passenger range from $750 to $2,500, depending upon the specific plan selected. Each of the above plans includes a maximum limit of $250 per item, and a combined limit of $500 on certain types of valuables including jewelry items, furs, computer equipment, cameras and sports equipment.
The Baggage & Personal Effects coverage can reimburse your charges and interest due to any unauthorized use of your credit cards during your trip up to maximum limits for this benefit. The coverage also reimburses any fees for replacing passports lost or stolen during your trip. The smartest and most prepared travelers will follow these tips and invest in travel insurance coverage which will protect their most important personal belongings.
About Travel Insured International®
Travel Insured International® based in E. Hartford, CT, was founded in 1994 by the foresight of insurance industry executive Peter Gehris when he acquired the travel protection division of the Travelers Insurance Company. Coverage is underwritten by Arch Insurance Company (a Missouri corporation, NAIC #11150) with executive offices located in Jersey City, NJ. Arch Insurance is rated A ("Excellent") for financial strength by the insurance rating service A.M. Best. Not all insurance products or coverage is available in all jurisdictions. Coverage is subject to actual policy language.
Travel Insured International®
52-S Oakland Ave.
E. Hartford, CT 06128-0568