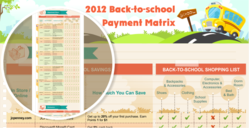 Miami, FL (PRWEB) July 26, 2012
Using the right credit card can save people tons of money, and with back-to-school shopping season in full swing, consumers need to know which credit cards can save them money at different retailers – whether they are online or in stores.
The average consumer held 3.5 credit cards at the end of 2008 – but many people don't realize that using the right card can give them big savings. A study by Credit-Land.com aims to solve this problem, showing consumers how to save money by using the best payment options.
The study does two things: First, it pinpoints three shopping options – brick-and-mortar stores, online retailers, and online malls offered by banks that issue credit cards. Second, it focuses on 18 top back-to-school retailers, selected from 150 merchants named as most popular by the National Retail Federation, breaking them down according to shopping categories. The study shows which payment method – cash, rewards credit card, store card, etc. – will give the most additional savings in categories like apparel, electronics, and general school supplies.
The detailed study can be found at: 2012 Best Payment Method for Back to School Shopping
Key Findings
Payment Options for In-Store and Online Shopping:

For in-store shopping, the best way to shop in a physical store is to use a general cash back credit card, because it gives additional savings that can be combined with store promotions. Also, statistically, general Cash Back Credit Cards, unlike store credit cards, give a high percent of cash back.
Shopping through online credit card malls can save customers up to 10.7 percent more than other options, because banks and retailers offer deeper discounts when they partner up through card issuers' online malls.
Shopping directly through online retailers works best if you use a store-branded credit card, because a regular cash back credit card may not classify an online purchase in the right Merchant Classification Category for maximum cash back.
Payment Options for Shopping in Specific Categories:
At department stores, using the Discover More card will net an additional five percent cash back through Discover's rotating category cash back program, and American Express Blue Cash Preferred card holders will get an additional three percent cash back.
For electronics stores, using a U.S. Bank Cash+ Visa Signature card gets you five percent cash back at the Apple Store and Best Buy, while using a SimplyCash Business card from American Express OPEN will give five percent cash back at Staples or Office Depot (which aren't classified as electronics stores, but do sell laptops and other electronics).
At apparel stores such as GAP, Old Navy and Banana Republic, customers who pay with a Citi Dividend Platinum Select card get five percent cash back.
"Although the saying is that 'cash is king,' using cash isn't always the best way to help you save money," says Roman Shteyn, credit card expert and co-founder of Credit-Land.com. "Most major merchants offer additions discounts through store credit cards or partnerships with credit card issuing banks. We looked at hundreds of retailers and found the best offers in every shopping category. Families can save hundreds of dollars by using our table to find the best deals."
About Credit-Land.com: Since 2000,Credit-Land.com has been matching consumers with credit cards. At Credit-Land.com, consumers can read full reviews on each featured credit card, see side-by-side comparisons between competing cards, and find the best cards for their personal credit history. Whether people are looking for balance transfers, zero-APR promotions, travel rewards, student credit cards, business credit cards, or other offers, Credit-Land.com's team of experts is constantly on the lookout for the hottest deals to save people the most money and give them the biggest rewards.